Regular price
$80.00
Sale price
$80.00
Unit price
per
Sale
Sold out
These studies are great for both new believers and those who have been believers for years. It connects the dots between the Old and New Testaments and teaches why all of Scripture is important to every believer. This bundle includes the 4 women's study books in our Themes in Scripture series:
Amen:
This 5-week study is designed to teach the big picture story of the Bible and show how every part of Scripture points to Jesus. The study walks through various genres of Scripture and helps show how everything from the Law and the Prophets to the Gospels and Epistles points to Jesus and His redemptive plan. It walks through the movement of the story of creation, fall, redemption, and restoration.

Faithful:
This study traces the promises of God from Genesis to Revelation. It traces the story that God is writing through covenant promises to His children. This study walks through the story of Scripture through the lens of the covenants and reminds us that God has always been faithful, and we can be confident that He will be faithful in our lives as well.
Worship:
This study traces the theme of worship throughout the entire Bible. Believers are called to live in such a way that all of life is worship, and this study explores what true worship looks like from Genesis to Revelation.
Rest:

Are you weary and overwhelmed? You are not alone. Every one of us encounters and struggles with weariness and busyness. We all crave rest but we can find it difficult to have rest in a life full of work, schedules, and stress.
Rest is a 6 week study that will trace the theme of rest from Genesis to Revelation, learn how to truly find rest in Jesus Christ and discover how God brings His people everlasting rest
View full details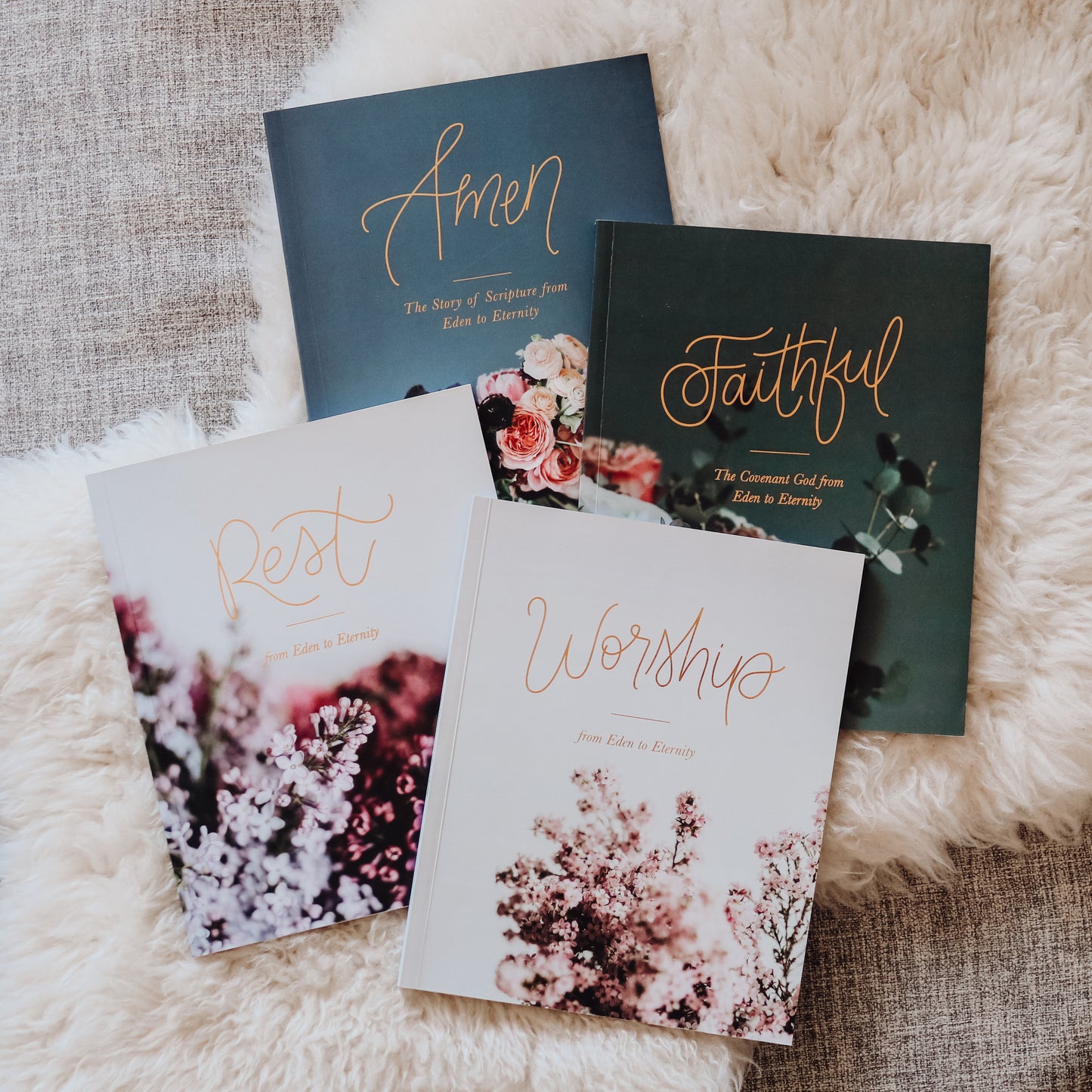 It taught me a lot
So far I've only read Worship, but wow! It taught me a lot. I love it. Can't wait to keep reading. It's a wonderful way to learn how to worship our Lord and this book is perfect. I am a new Christian and your resources have been so helpful, I know God put your in my path. Thank you!
Wonderful
I recently purchased a few Bible studies from The Daily Grace Co. They are so beautiful to look at, and the content gets you into the Word, and is very relevant. I highly recommend this website!
Amen! I just started this study and love it so far.
It is quick and easy to complete daily. It is also insightful and thought provoking.
Such a great bundle!
I am really enjoying the Themes in Scripture bundle. I feel like it really helps me to see how common themes and words from the Lord are woven across time. The pages are also beautiful and the content well organized. Each book has such valuable insights, very well done.
Themes in Scripture Bundle
What a beautiful resource and so wonderful to get them in a bundle.