Regular price
$18.00
Sale price
$18.00
Unit price
per
Sale
Sold out
The Lenten season is one of the most precious times in the Christian calendar. During this season of prayer and reflection, honor Jesus's sacrifice on the cross by reading and writing about the days leading up to his crucifixion and learning about his life and ministry. 
What you'll love about Write the Word | Lent:
Easy to use

| Simply grab a pen, your Bible, and this journal to create a timeless collection of your favorite verses, memories, and prayers.

*NEW* Dated Spreads |

With the addition of dates to every spread, you'll stay on track with your Bible journal routine each day of Lent.

Blank layouts

| Blank layouts provide ample space to journal meaningful verses, study through a book of the Bible, or create an heirloom of written encouragement for a loved one.

A structured system

| In each two-page spread, you'll have the same inspiring spaces found in our other Write the Word volumes. Enjoy defined spaces to express daily gratitude, choose a word for the day, and journal what is on your heart.

Intentional Design

| Seasonal hues encourage peace as you study God's word, and the high-quality cover protects your devotions for years to come.
Write the Word | Lent gets you right into the Word—the ultimate place for refreshment and peace. It brings you closer to God and helps you live each day with hope and purpose!
Get started today!
View full details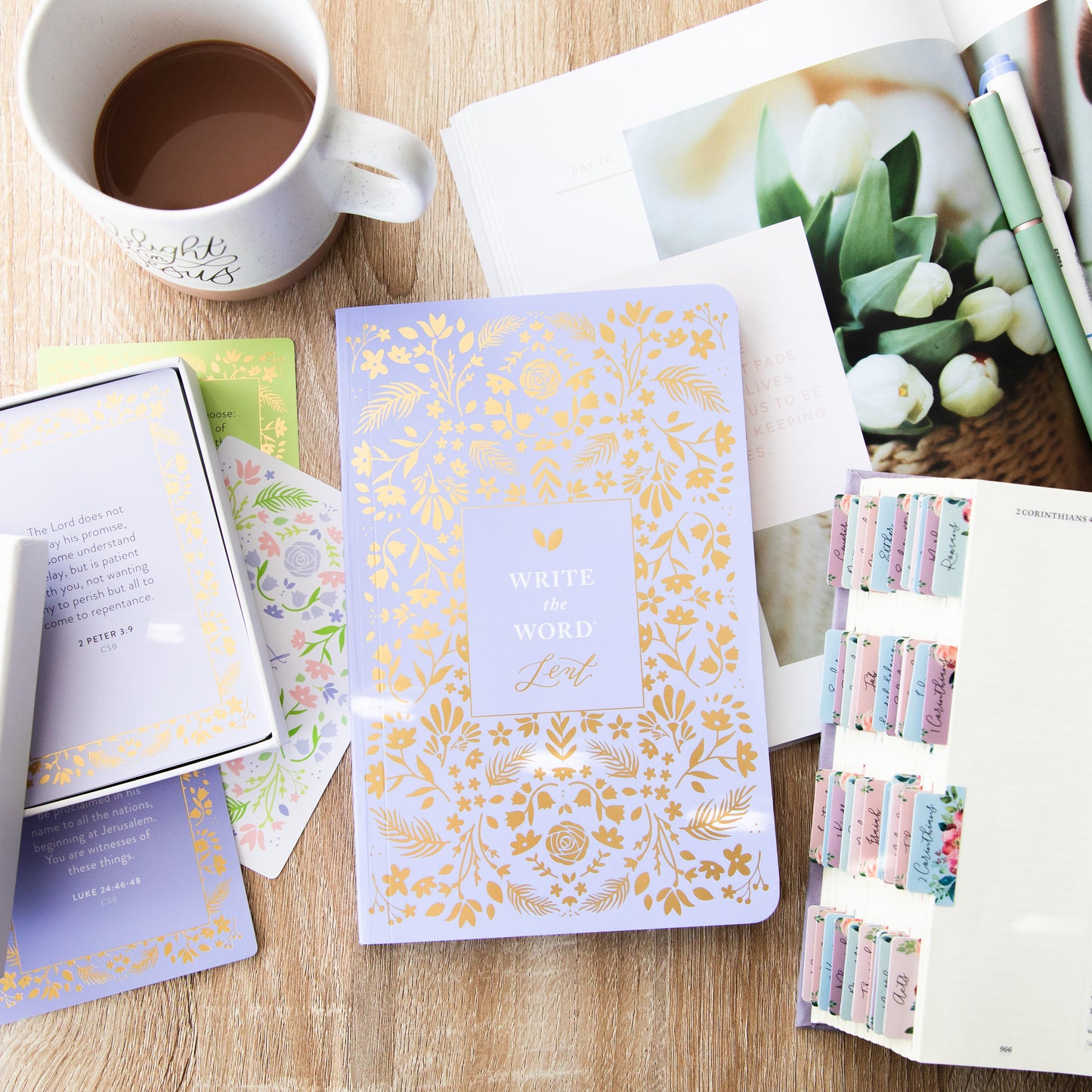 I have been daily scripture writing for the past 3 years. This is my first guided scripture journal. I have heard of this brand and was glad to try it out at a discounted price. The journal is beautiful with a gold foiled cover design. It lays flat and the paper quality is good. However, it is paperback. I don't mind and actually prefer paperback but the binding quality can be a little better. The journal prompts are good and the verses are well chosen.
Great for busy moms
I really like this write the word journal - it has been a great way to end my day with gratitude and meditating on scripture and prayer. Love the simple format. Great for busy women and moms to be able to take a few minutes to connect with God.
Excellent Guide Journal
I am enjoying this little journal so much. Writing verses is really effective and special. I appreciate the "what's on my heart" prompts and finding a word up dwell on for each day. Highly recommend!!
Love my Lent Write the Word Journal!
So… This is the first time in a few years that I haven't opted for a traditional in-depth Lent study, but I've had a lot going on this year and just didn't feel l like I could swing anything too demanding.
That being said, the Lent Write the Word Journal has been perfect for me in this season so far. On days where I just want to copy the Scripture, I can, but if I want to go deeper, I can. The flexibility is just what I need right now and the journal is beautiful (which makes it even better). Definitely recommend it!
I Love It
I really love my lent journal, though I haven't had the chance to use it yet, since the time hasn't come for it. However I can say just based on the look and feel of it, it is a good quality journal. I personally would enjoy a hardcover version but the paperback version certainly does the trick and still looks pretty. Each entry is marked with a date, a space to write something you're grateful for, a verse, plenty of space to write, and it ends with a space for you to write a word that represents your day. I'm really happy with my purchase and look forward to using it. I should also mention I bought mine during a sale and felt the price was good.