Regular price
$20.00
Sale price
$14.00
Unit price
per
Sale
Sold out
The Dwell Verse Card Box is a gray linen covered box with gold foil accents that fits our 4x4 Scripture memory and prayer cards.
The box comes with 6 customizable tab cards to help you organize your verse cards by topic or card set.
Verse cards are not included.
View full details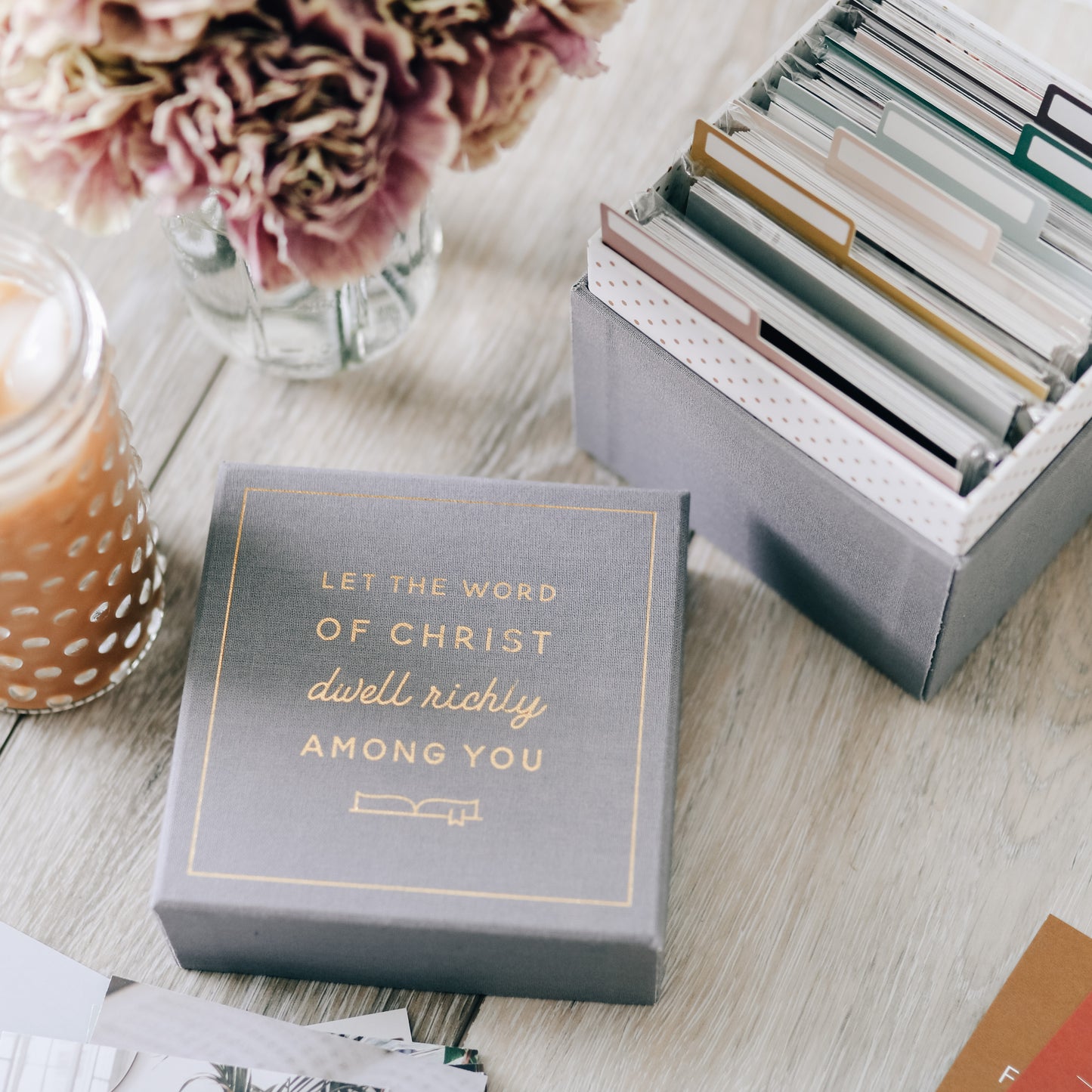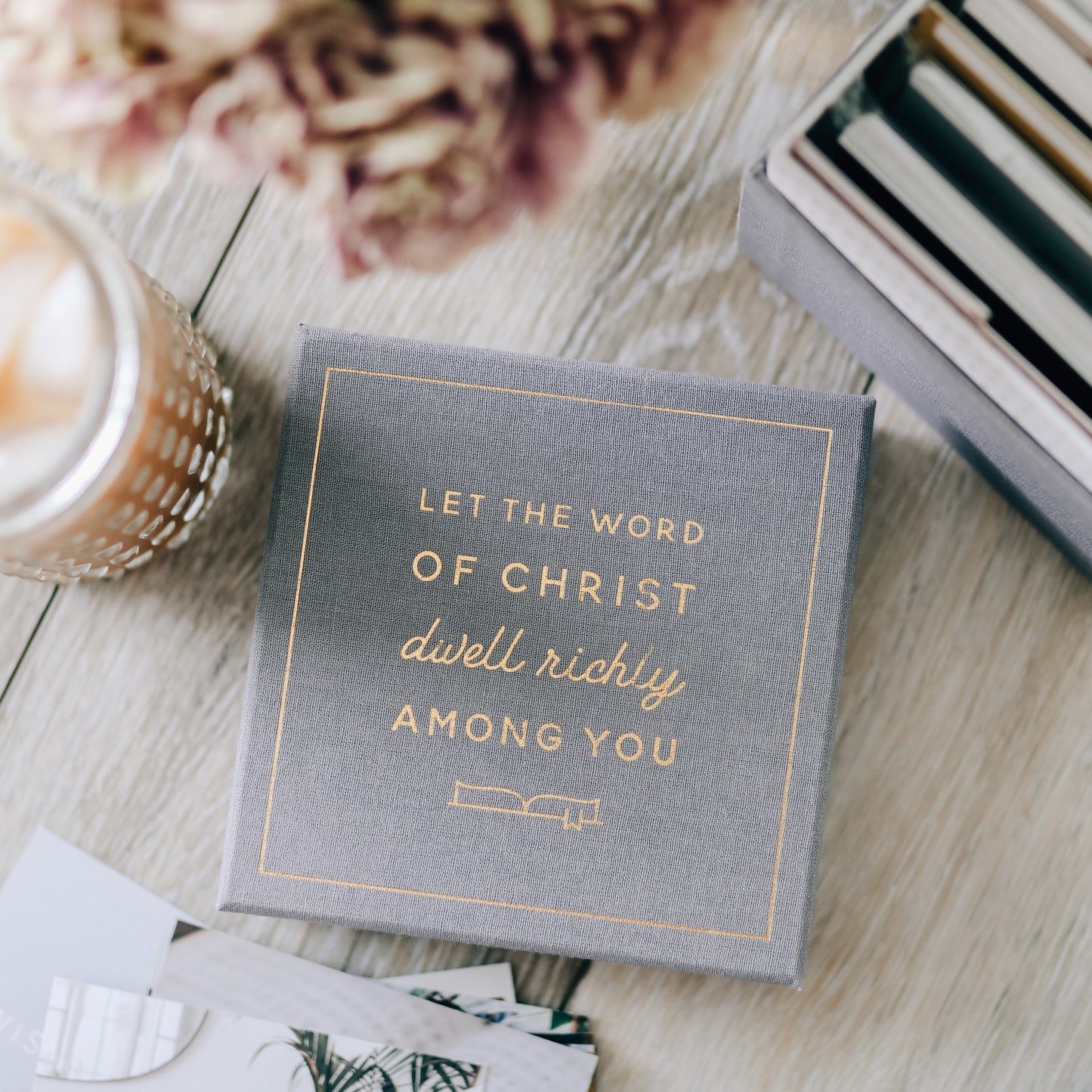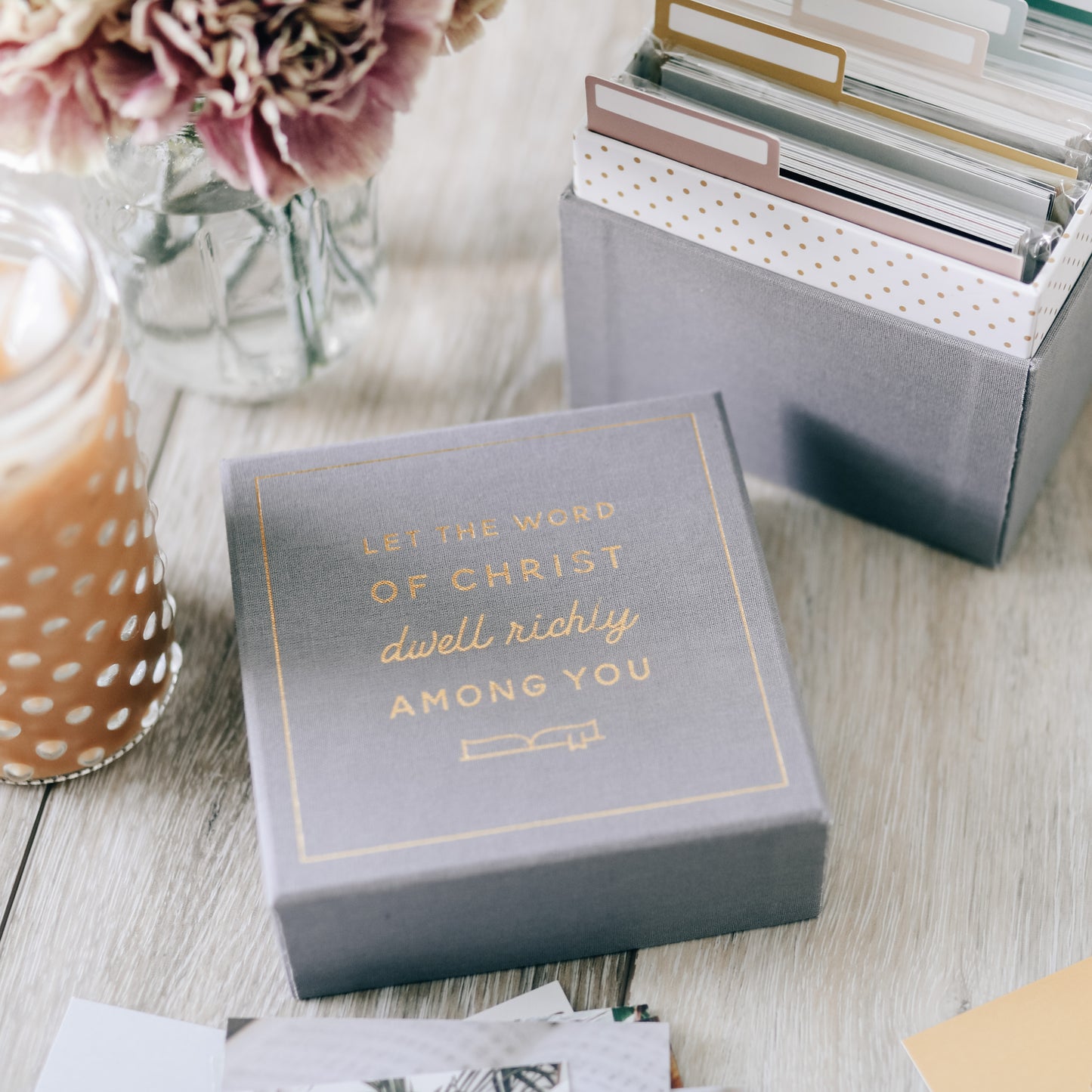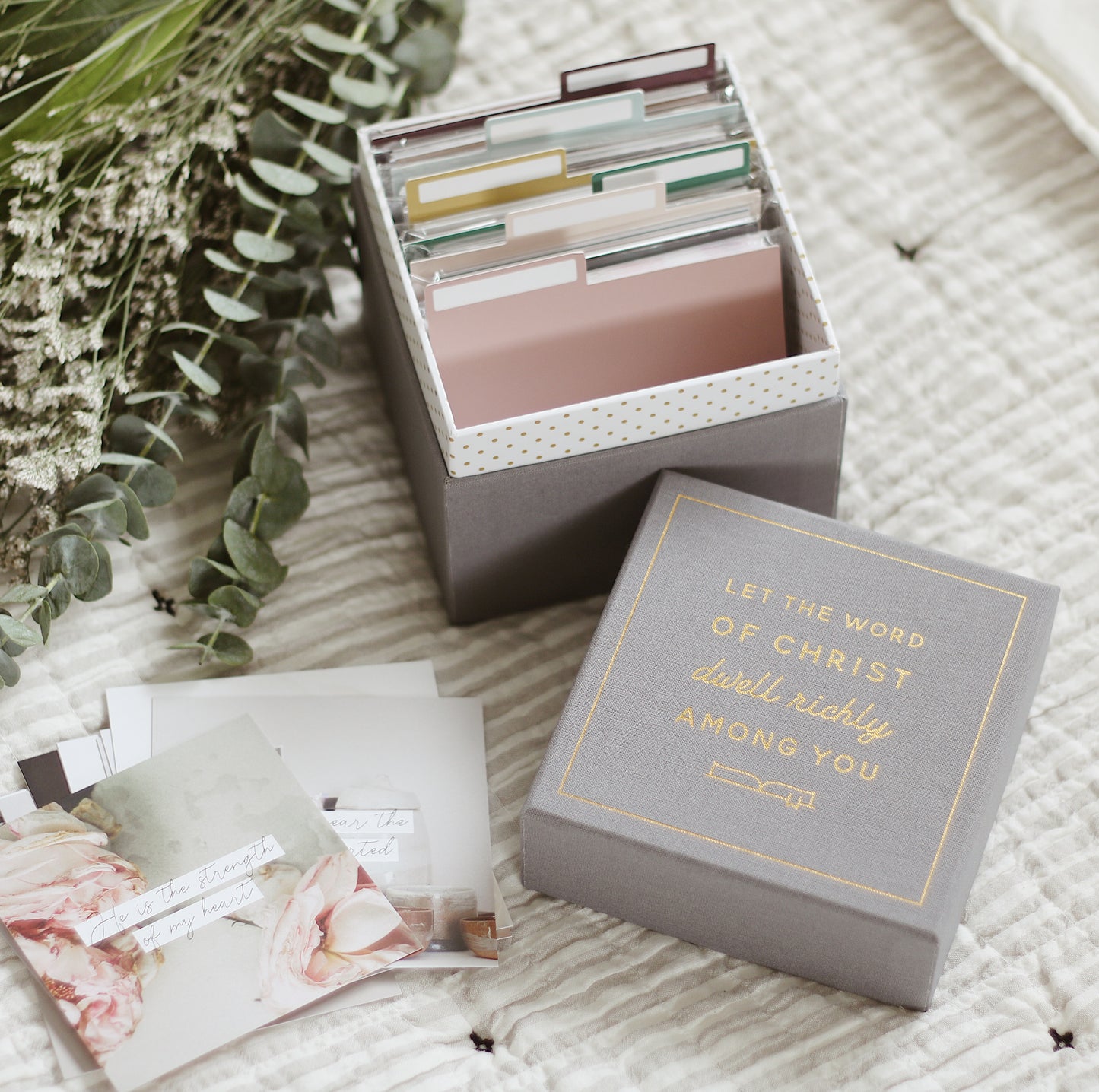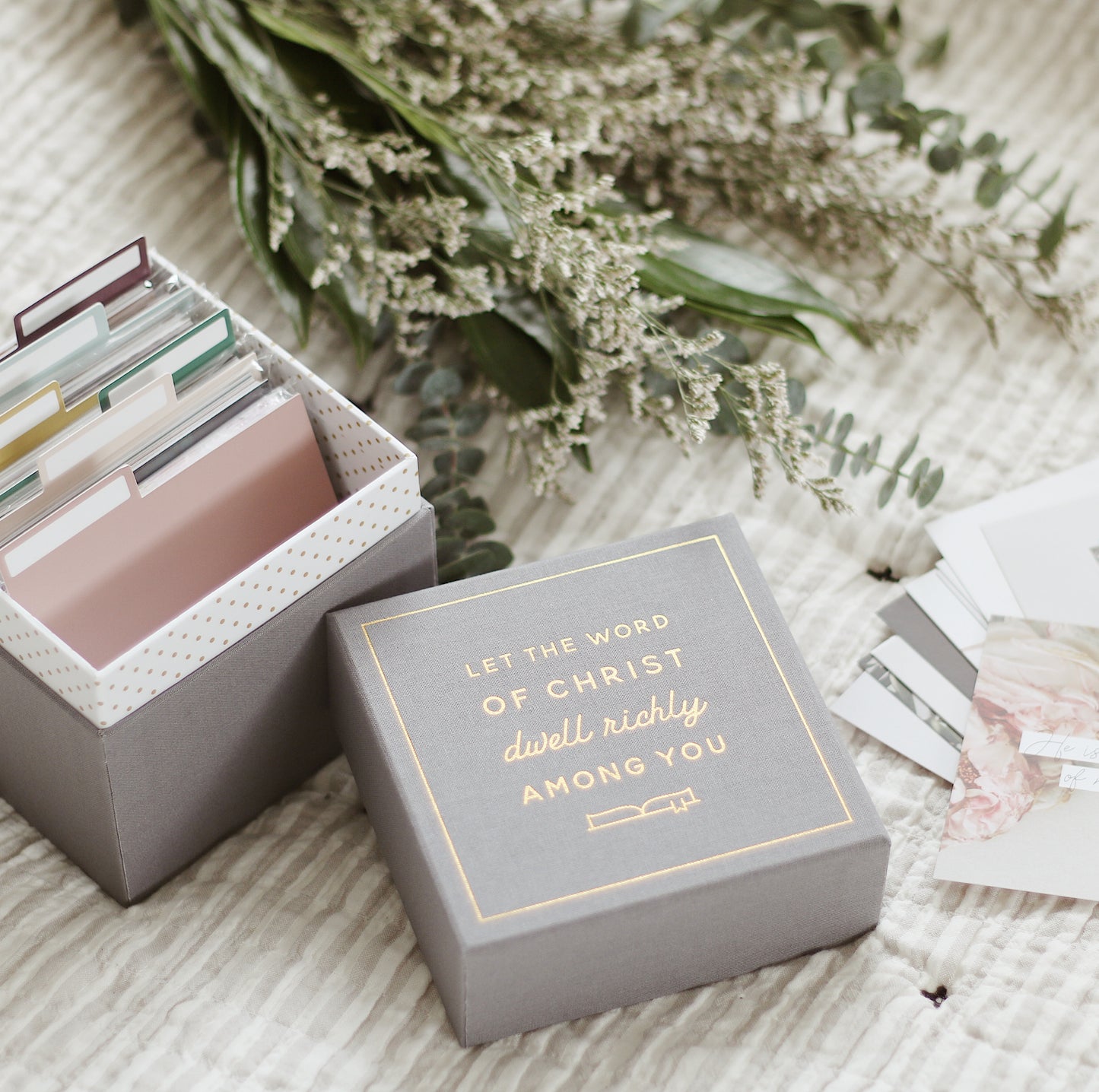 Perfectly made
The box is beautifully made and perfect to keep all my scripture cards in. I love that I can organize them and find what I am looking for quickly. It is better than having the cards getting lost on my desk from being in a pile.
Gorgeous Organizational Item
I purchased this verse card box because I have many verse cards and was having trouble keeping them organized. I guess I didn't fully read the description because I fully expected a beautifully printed cardboard container. When I received it in the mail however, it was canvas wrapped and foil inlayed and gorgeous. The inside of the box is patterned. There are 6 divider cards that come with it and I love for keeping my cards in order by subject.
I didn't think I would be so excited for a box, but it looks wonderful on my shelf, and so organized! Love it.
Unfortunately (excitedly), my box is full, so I will be purchasing a second one.
I have recommended to TDGC that they sell the dividers separately so I can add more to a full box, and that I would totally buy them haha.
Dwell Card Box
I was able to fill it up with a few different types of cards. I can keep them neat, organized and out of the way of little ones. They are the perfect prayer for my days.
Awesome Sauce
I love this box!! It holds so many cards. Have 2 and hope they come out with more
Dwell verse card box
This is a beautiful piece to sit on my table. We have filled it with some verse cards and also some gospel conversions cards! It's been a great thing to pull out at dinner time.