Regular price
$52.00
Sale price
$37.00
Unit price
per
Sale
Sold out
This collection includes:
Emotions and the Heart | Study:
This study delves into a Biblical understanding of emotions. We all experience them, but we do not always understand them or know what to do with them. Over the course of 4 weeks, we will search the Scriptures to better understand God's intentions for our emotions and how we can interpret and express them in a way that both honors God and serves others.
Created with Emotions - Children's Book:
We know God gave us all our emotions as a way to glorify Him, but big emotions can be a lot to handle as a little kid. That's why we created this Created with Emotions children's book. This book walks through each of our emotions and what they are. With easy-to-read words and biblical illustrations, this book is great for young readers.  
God Cares How I Feel - Board Book:
This children's book walks through each of our emotions and what they are. This board book is perfect for even the littlest member of your crew.
View full details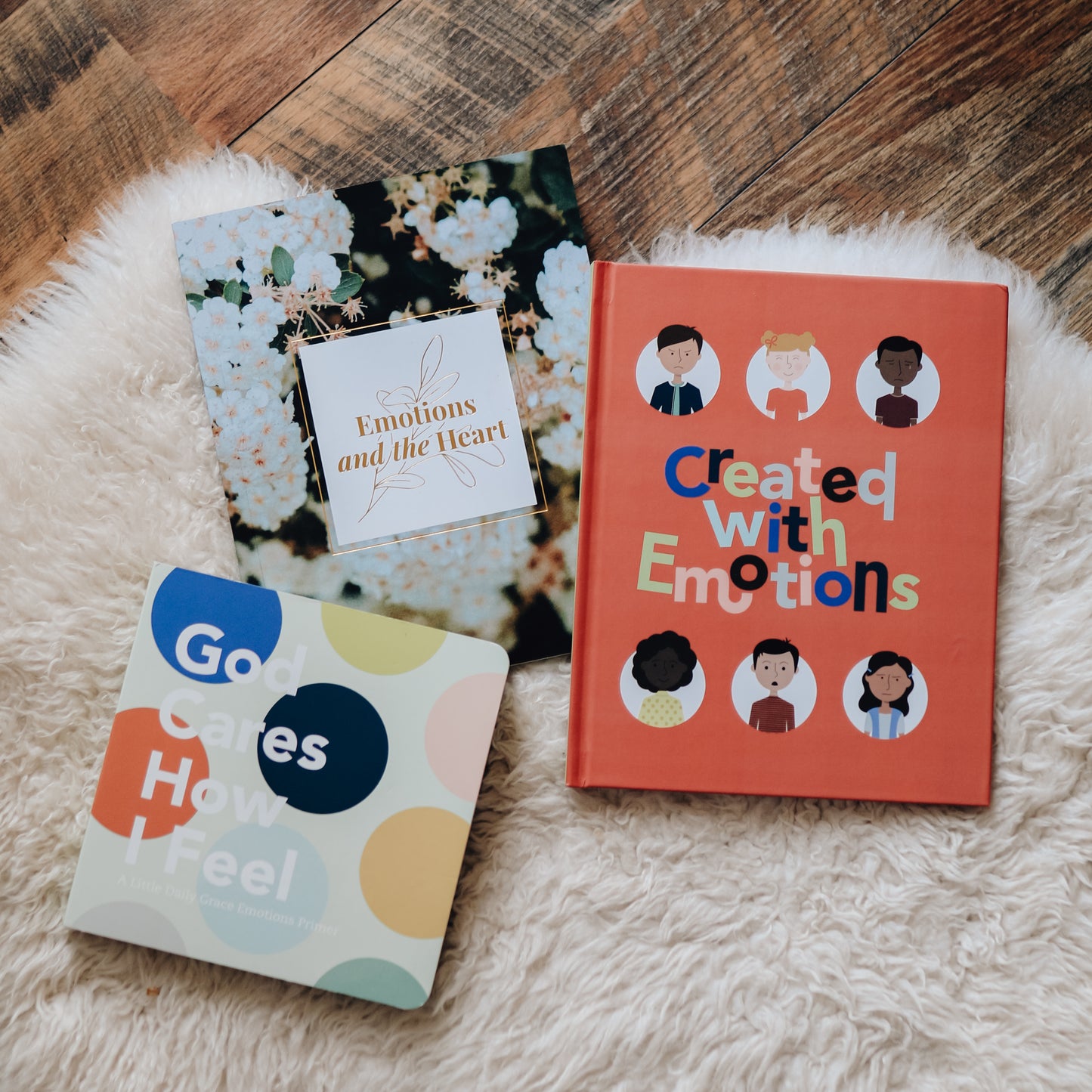 This is awesome
I bought these for my two kids and this may have been the coolest thing I have ever gotten them. I'm so glad their are resources like this.
Praying the Emotions
I somehow missed that part of the bundle is geared for children. Going through the youngest age range through the adult level books has been a blessing as I am reminded how simple the gospel really is... it's all about Jesus and His love for me. For us. "From Eden to Eternity", as The Daily Grace Co. reminds us, it's all about God and how He wants us with Him. How Jesus is the only way. Praying through my emotions, being broken down in this way, helps me bridge any reservation I may have in going to the Father in every moment. Every feeling. Every emotion. He wants to know.
Beautiful tools for growing in Bible literacy and personal relationship with Christ
The Daily Grace Co. has great resources for men and women and families and church groups to help grow in Bible knowledge and build a closer walk with Christ in personal life and prayer.
Gifts
I loved giving all of these to separate families. The older emotion kids book is going to a 4 year old that is going through all the emotions. The little kid board book is going to a two year old that is also experiencing all the emotions! And the adult book was going to be mine but I'm giving it to my sister in law, because she is going through a change in her life and also experiencing tons of emotions.
God-given Emotions
This collection of Emotion resources both for myself and my children has been a blessing to us! I love getting to sit down with my daughter with two different types of books that explore emotions in a godly context that is easy to understand and entertaining! She loves matching up the emotions and facial expressions at the end of the book. The diversity of the characters chosen for the illustrations also displays God's creation in a beautiful way. Thank you for this rich resource to help my daughter learn more about how she was created!