Regular price
$40.00
Sale price
$20.00
Unit price
per
Sale
Sold out
Peace for the Anxious Heart | 4 Week Study | Study on Anxiety
This Bundle includes one Men's and one Women's Study.


Anxiety is hard, complex, and the presence of anxiety can feel like a battle that will never cease. The fears and worries that run through our minds and shake our hearts can make us long for peace. But those with anxiety do not have to feel hopeless in their desire for peace, for God's Word covers every anxious heart with the Peace of God. 
Peace for the Anxious Heart 4 week study will: 
 Walk you through the lives of biblical characters who dealt with fear and anxiety themselves.
Help you understand  how anxiety affects our bodies, relationships, and faith. 
Remind you of God's love, the hope of the gospel, and the presence of God who provides lasting peace in the battle against anxiety.
Special resources within study:
Study Suggestions
How to Study the Bible
The Attributes of God
Metanarrative of Scripture
Theologian Highlight: John Calvin
Breathing Through Scripture
Hymn: Be Still My Soul
Hymn: Turn Your Eyes Upon Jesus
What is the Gospel Description
Key themes: Anxiety, Worry, Hope in Christ, Refuge, Peace, The Character of God, 
Details: 
This study is perfect for individuals or groups. 
Each week contains five days of study material, including daily study questions, and weekly Scripture memory verses and reflection questions. 
Measures 8X10
Includes 120 pages 
View full details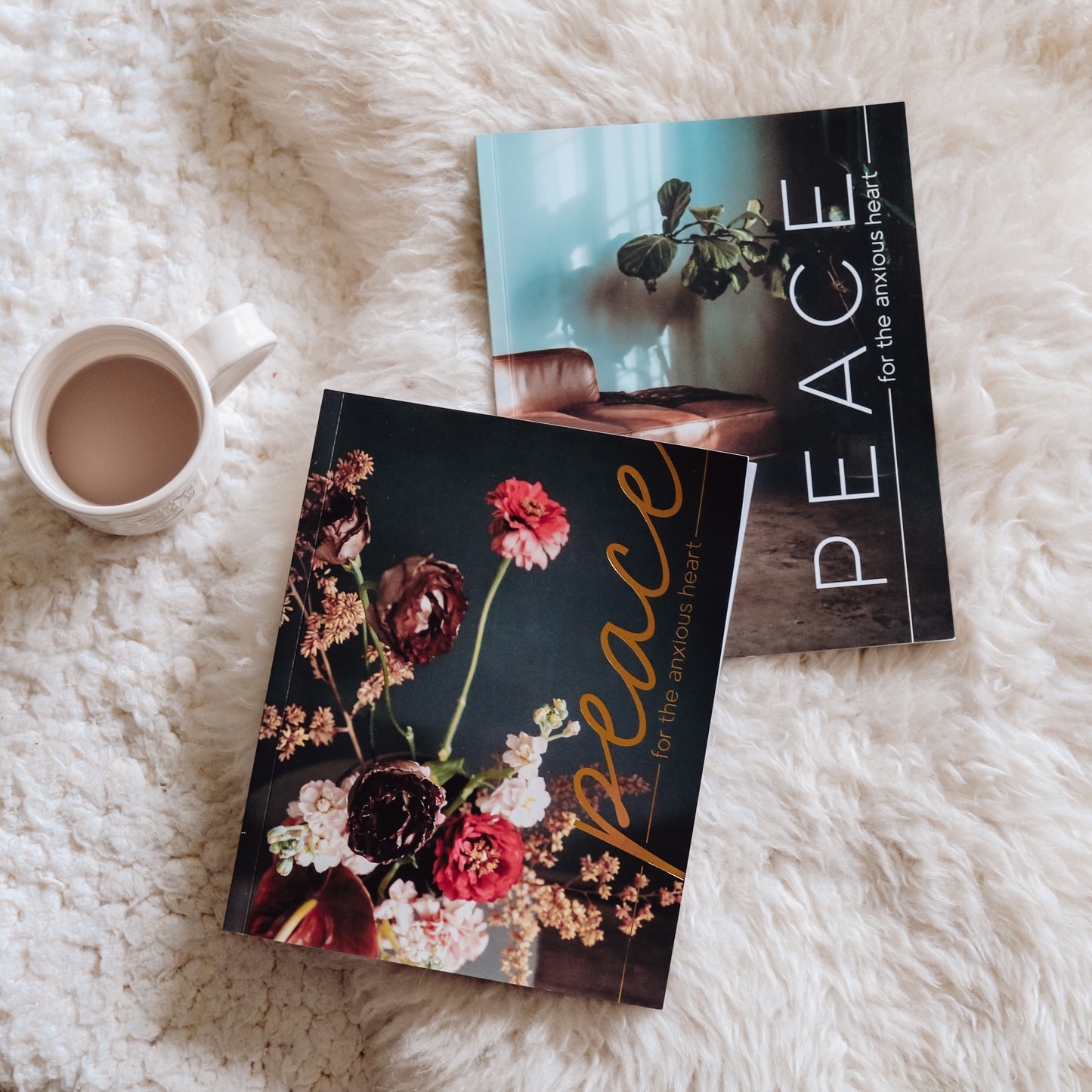 Just what we needed
Ordered the His & Her Bundle of Peace for my son who is moving out on his own this month. It is helping ease both of our minds as we move to the next journey of life.
Peacefully Perfect
Bought this bundle for my partner and I. Love the thoughtful layout and easily digestible plan that DG has created in these studies. Happy that my partner and I can explore and grow in our faith together on this topic. I've purchased many DG studies for myself as well and family and friends. I recommend them to everyone! Thank you!
Peace Study
Very awesome study! Great for both men and women
Ruth
I just finished the study in Ruth and it was amazing. I have recommended these studies to many friends!
Peace for the Anxious Heart His and Hers
I am really excited to get started with this study with my husband. We both struggle with anxiety and I pray by doing this study together we will be drawn closer to God and farther away from our worries