Regular price
$20.00
Sale price
$7.00
Unit price
per
Sale
Sold out
Romans Volume 2 | 8 Week Study | The Gospel-Centered Life

It has been said that the book of Romans is the key to understanding the entire Bible. It shares the most beautiful and rich descriptions of the gospel of grace that we find anywhere in Scripture. Romans volume 2 explores the practical ways Christians are to live out their faith taught in the Romans 8-16.

Romans Volume 2: The Gospel-Centered Life is an eight week study that will:

- Explain how the gospel provides unshakeable hope no matter what trials we endure
- Encourage you to form healthy relationships with other believers by focusing on the unity you have in Christ
- Help you rest in the grace of God which covers all of your sins—past, present, and future
- Show you what it looks live your life in complete worship of God, who rescues you from sin and death

Special resources within study:

- Study Suggestions
- Helpful Tips for Scripture Memorization
- Worksheet: Themes in Romans
- Chart: The Order of Salvation
- Chart: Outline and Flow of Themes in Romans
- A Hymn of Praise
- Worksheet: Spiritual Gifts
- Chart: Romans 11 Family Tree
- Glossary of Terms

Key themes:  Sin, Grace, Redemption, the Gospel, New Life in Christ, Unity

Details:

- This study is perfect for individuals or groups.
- Each week contains five days of study material, including daily study questions, and weekly Scripture memory verses and reflection questions.
- Measures 8X10
- Includes 196 pages
View full details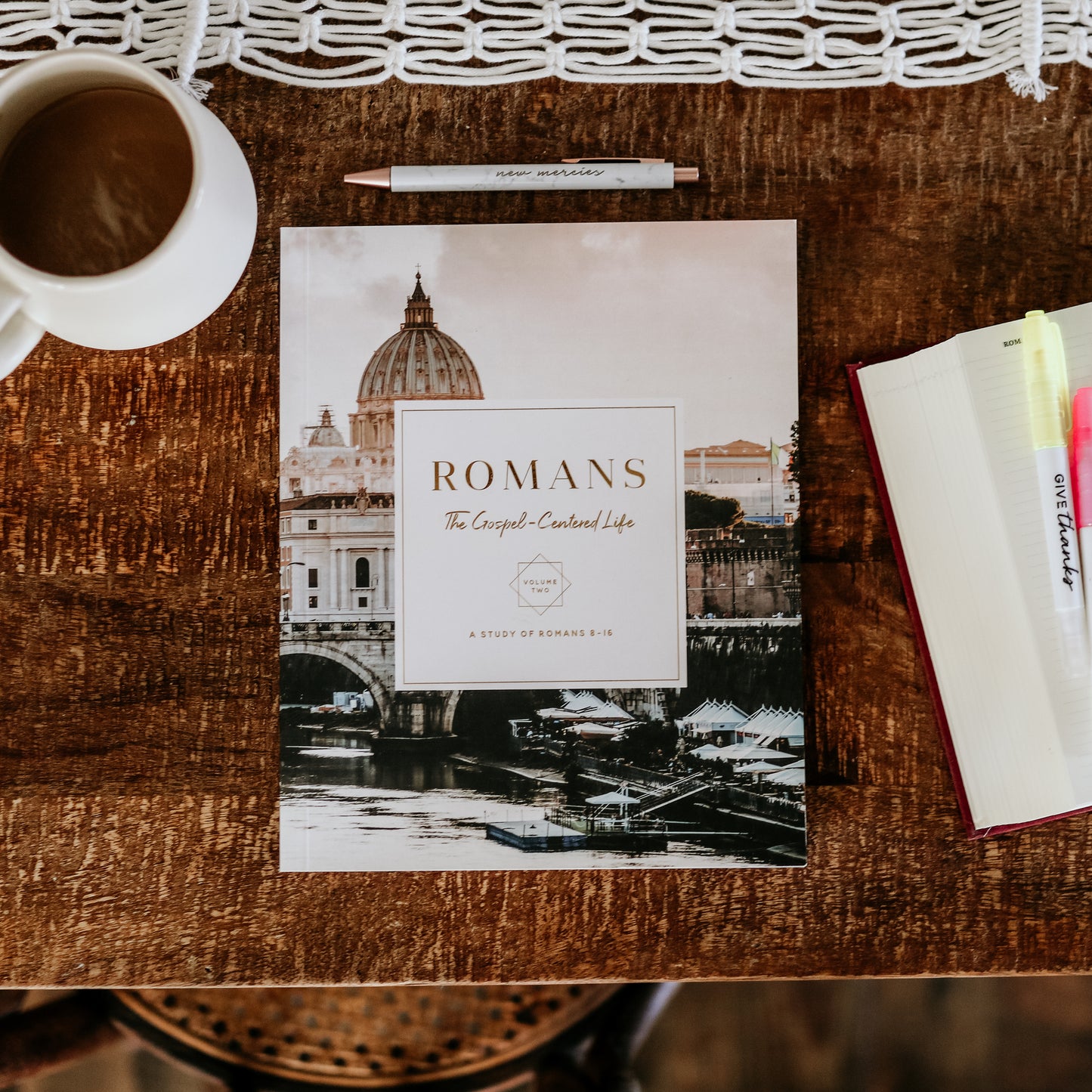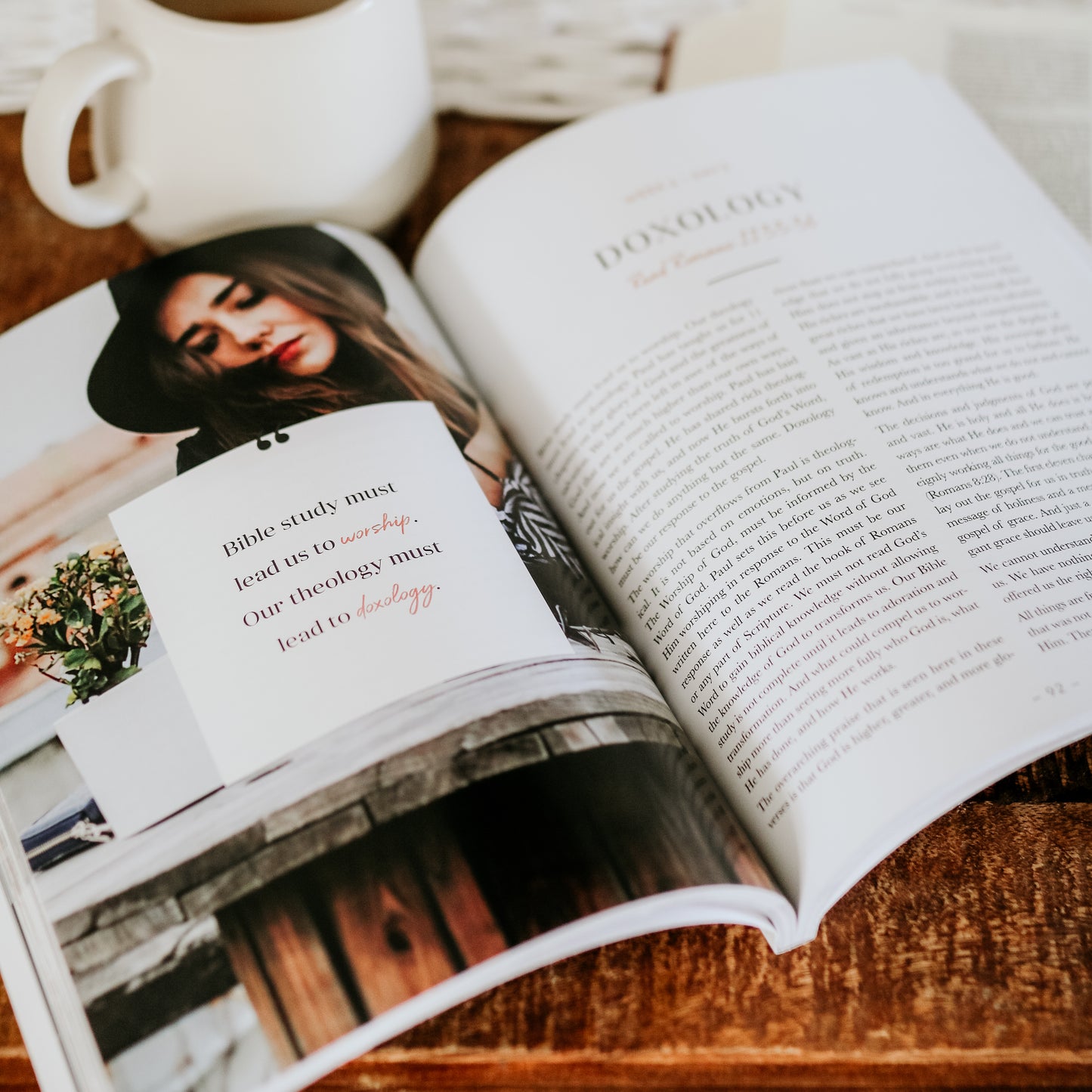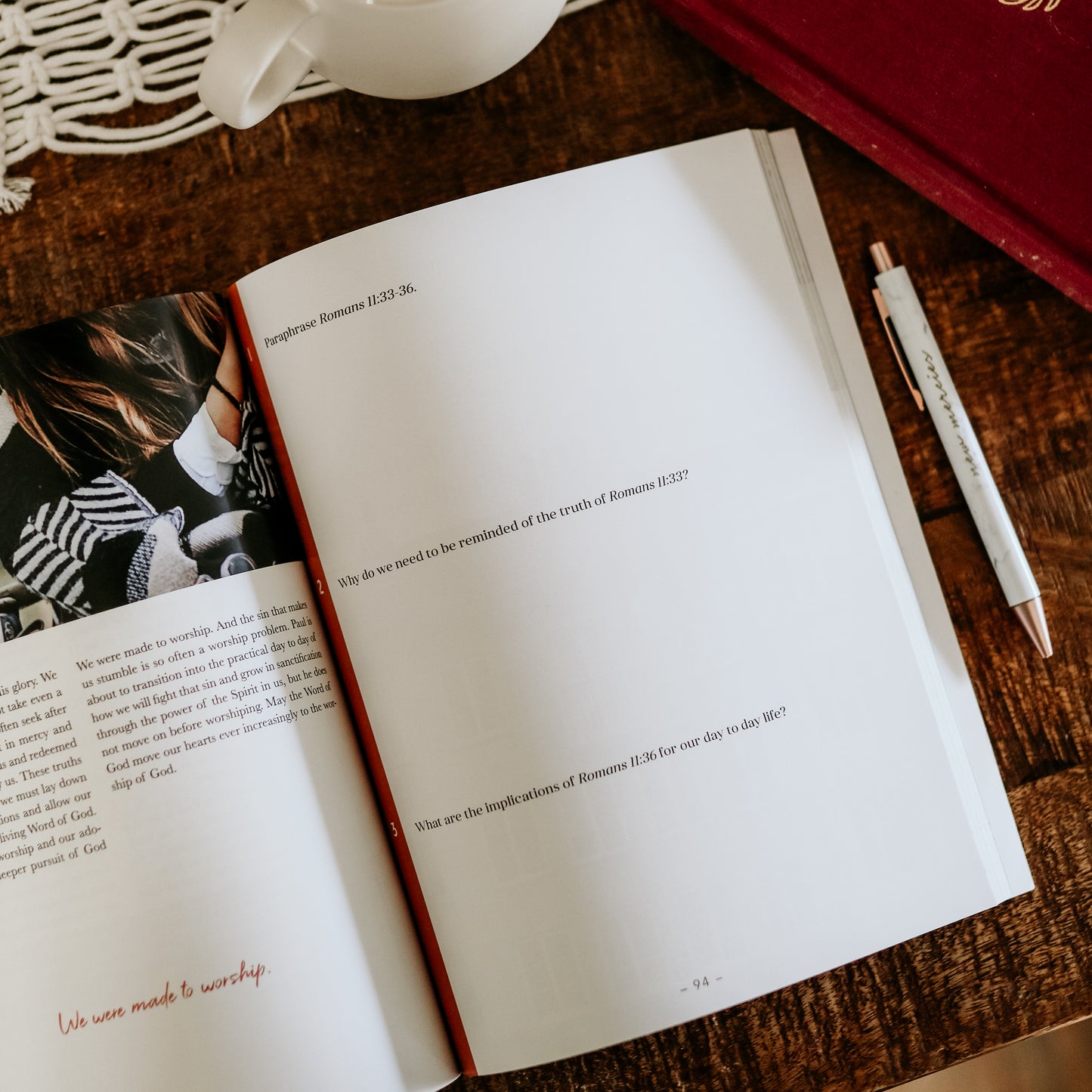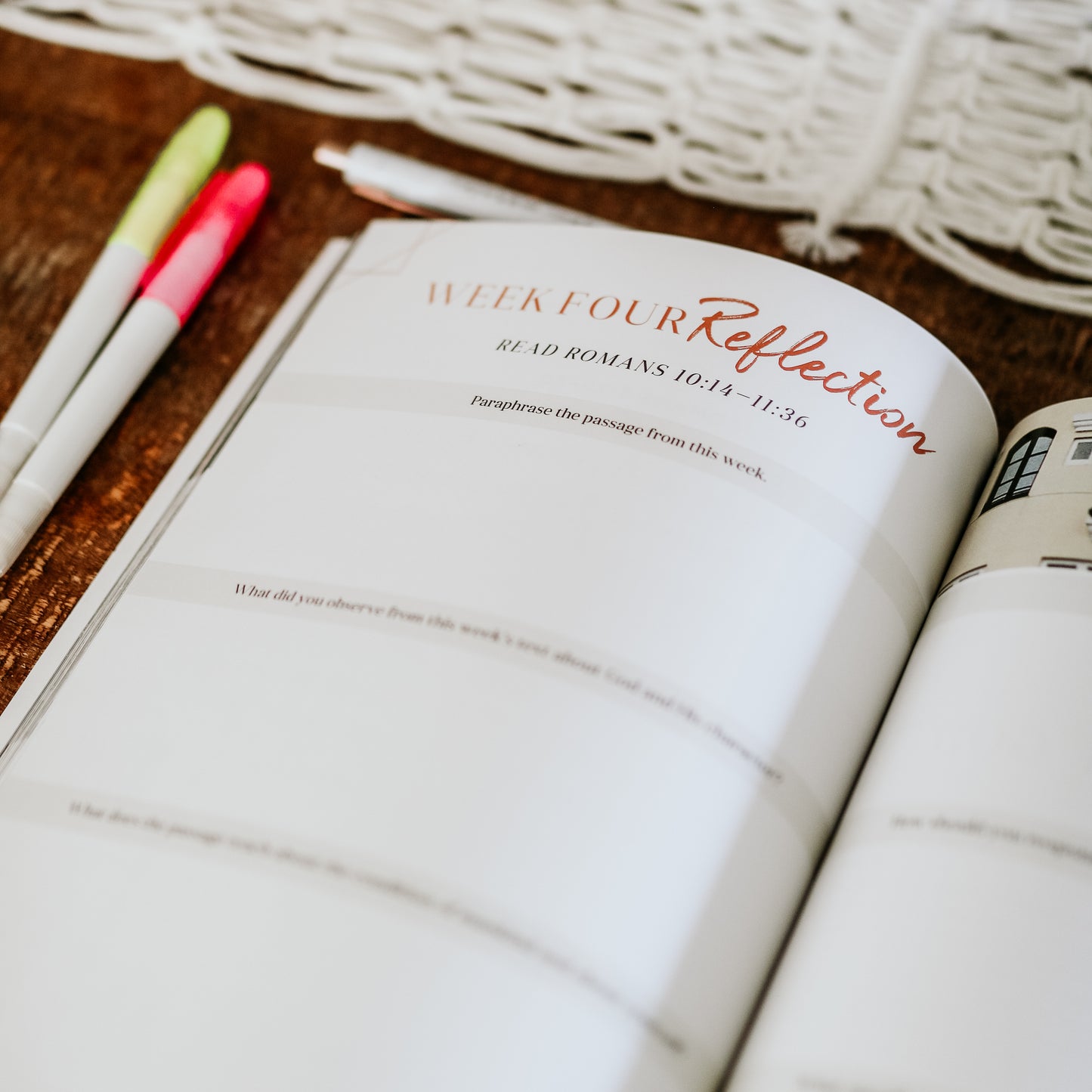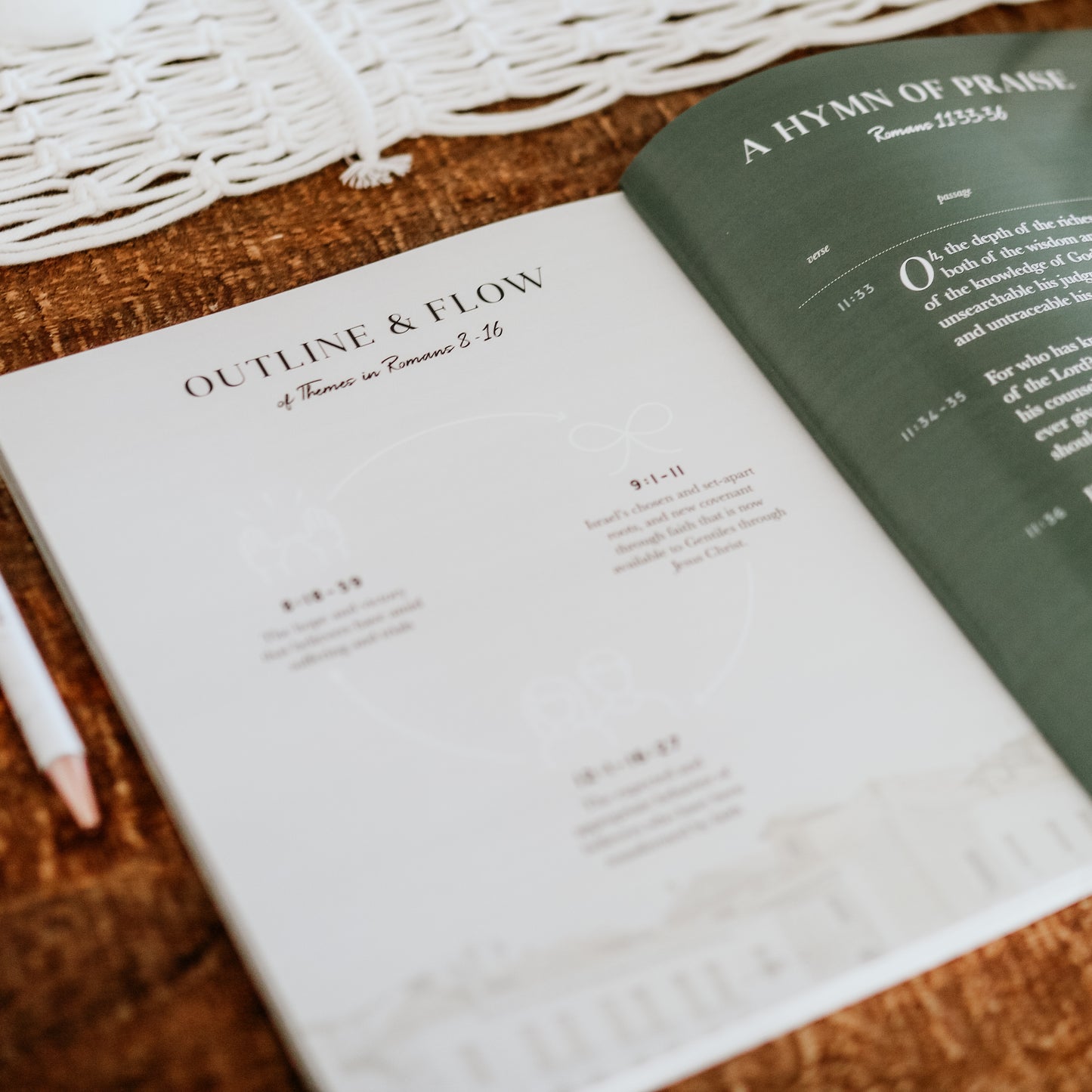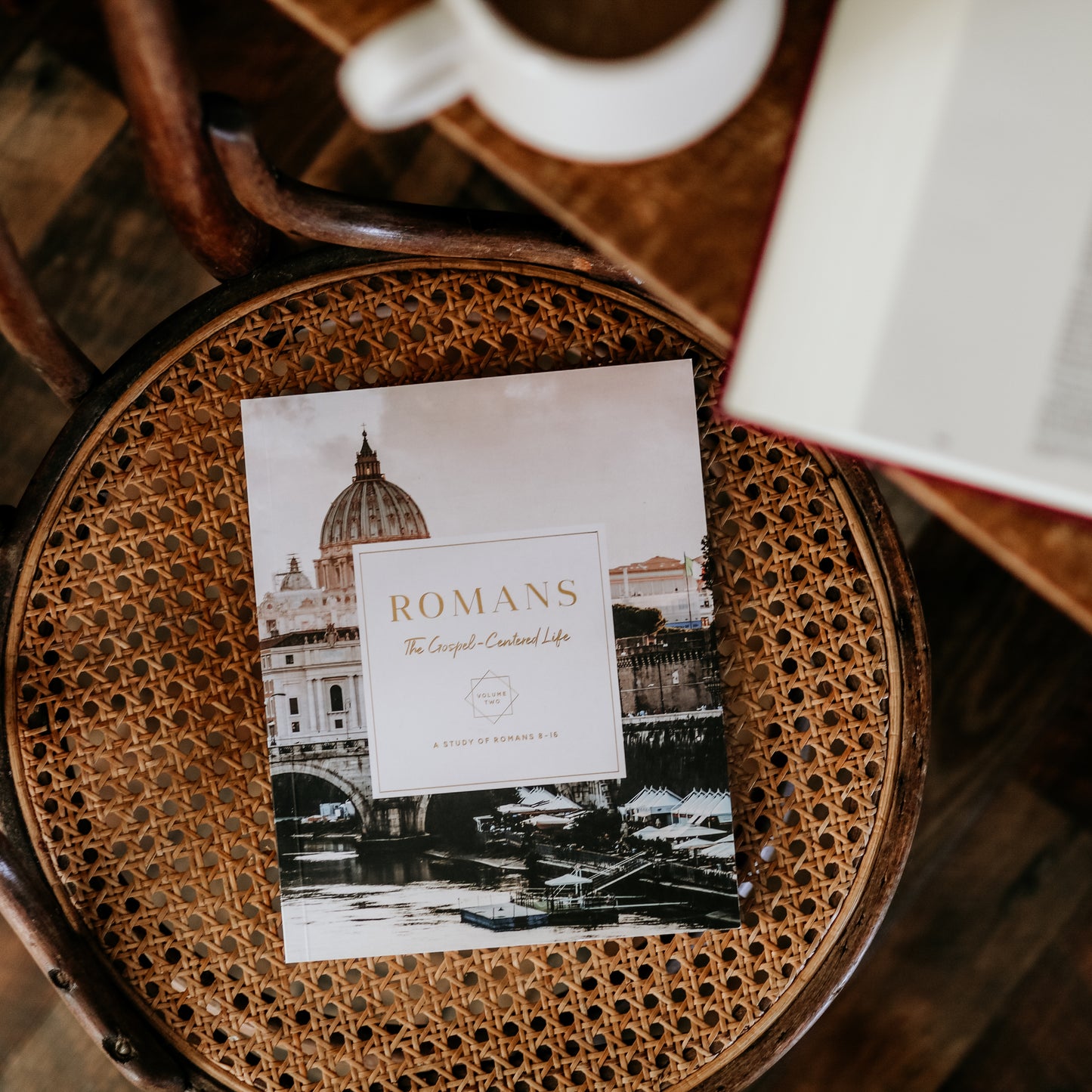 In Depth Study
I really loved the parts 1 & 2 Romans studies. They take you through an in depth study of the book & really enhanced my understanding of it. I really enjoyed the questions after each day of study which challenged me to reflect, look for answers, and grow.
It's so great but as a freedom of choice/non-predestination theologian this was largely not in my wheelhouse of theological interpretation. Other than that, it's beautifully constructed, it's wonderful in the prompts for reflection, and I love the small devotional portion but still very focused on having you read the text in the Bible. It also has methods for memorization, which I love!
Romans vol 2
Absolutely love this Bible study!!
Very thorough
I have really enjoyed this study so far, it had encouraged me to dive deeper into the book of Romans than I ever have. Before this study I was intimidated to go through such a weighty and rich book of the Bible, but I really enjoyed that this study had me read the whole book twice before breaking it down.
Great Romans series!
I really wanted to dive into Romans and so glad I purchased 1 & 2!
I have yet to be disappointed in any of the studies or products I have purchased from The Daily Grace Co.