Regular price
$112.00
Sale price
$91.00
Unit price
per
Sale
Sold out
Have you ever wondered what spiritual disciplines are? We've created this collection to give all the tools you'll need to learn what the Bible says about spiritual disciplines and how to practice them in your daily life. This collection includes:
Growing in Grace | Spiritual Disciplines Study
This 4-week study goes over spiritual disciplines, which are the means for believers to grow in godliness with the help of the Holy Spirit. Spiritual disciplines are for every believer. They are the outworking of a redeemed heart, and they help one to know and love God more.
The Abide Journal
The Abide Journal is an all-in-one prayer and Bible study journal. It features tabs for Bible Study, Prayer, Weekly Reflection of Gratitude and Adoration, and Notes sections that can be used for sermon notes, quotes, or anything else.
Bible Highlighter Set
We created this Bible Highlighter Set to be the perfect aid during your time in the Word, not only to help you highlight words but to point you back to Jesus every step of the way! These 6 vibrant gel highlighters were intentionally designed not to bleed through even thin Bible pages.
Floral Scripture Memory Journal
This is a 3"x5" spiral memory verse journal, small enough to throw in your purse and carry with you throughout the day. It features a floral cover with gold foil imprint and contains 40 full-color, lined pages to record verses for memorization and meditation.
31 Days of Prayer Verse Card Set
This set of cards includes 31 cards and a cover card. Each card includes a different prayer prompt. These are designed to be used as a tool to prompt prayer throughout the month. Each card includes Scripture to pray and several prompts to guide your prayer. Cards include prompts to pray for friends, neighbors, wisdom, contentment, unbelievers, persecuted Christians, and more.
Daily Truth - Emotions
This book is designed to be a reference for every circumstance of life. It lists out 24 various topics like worry, waiting, loneliness, and anger and lists Scripture passages and encouragement to reference during different seasons of life. It is the perfect companion to have as a reference to encourage your own heart or find Scripture to use as you encourage a friend.
View full details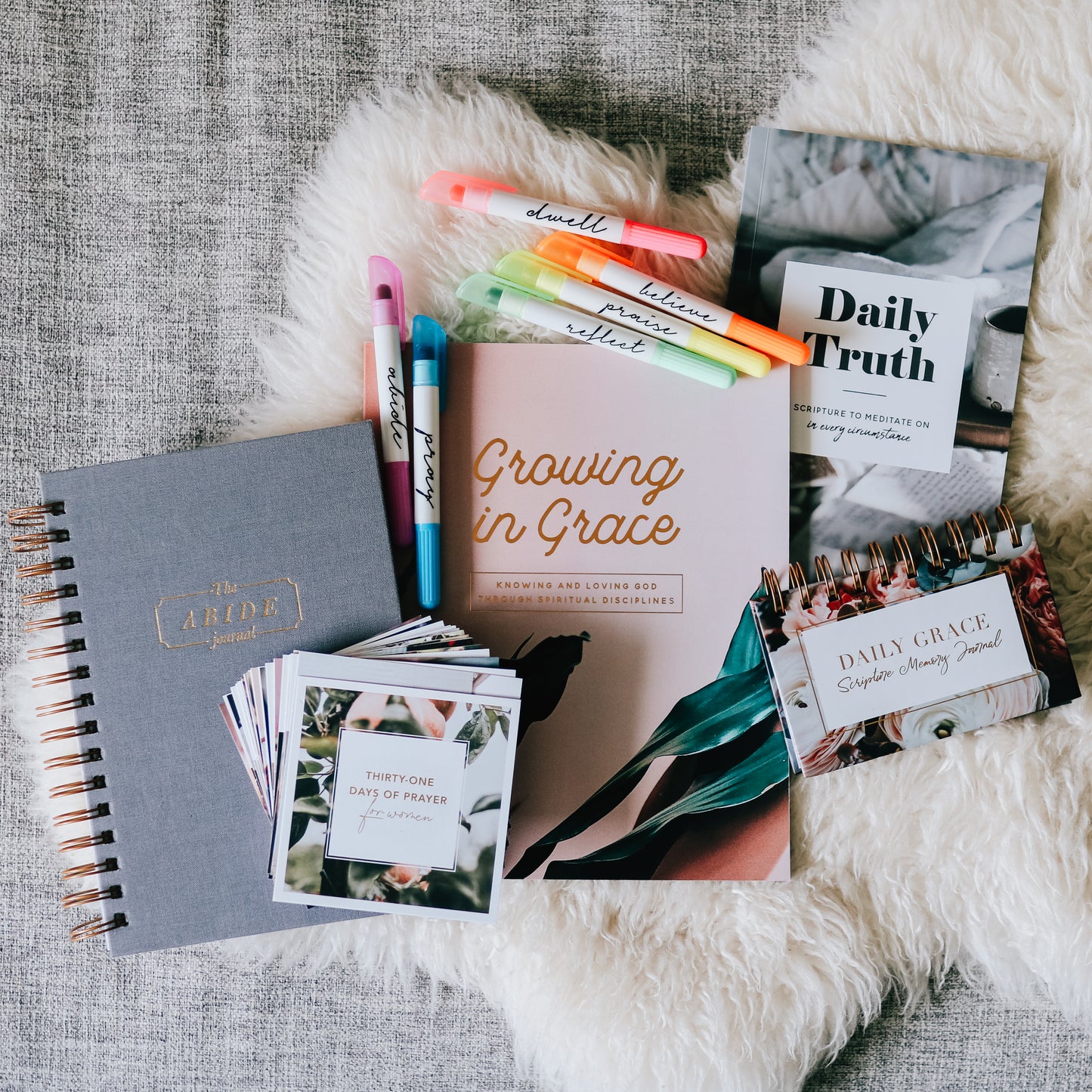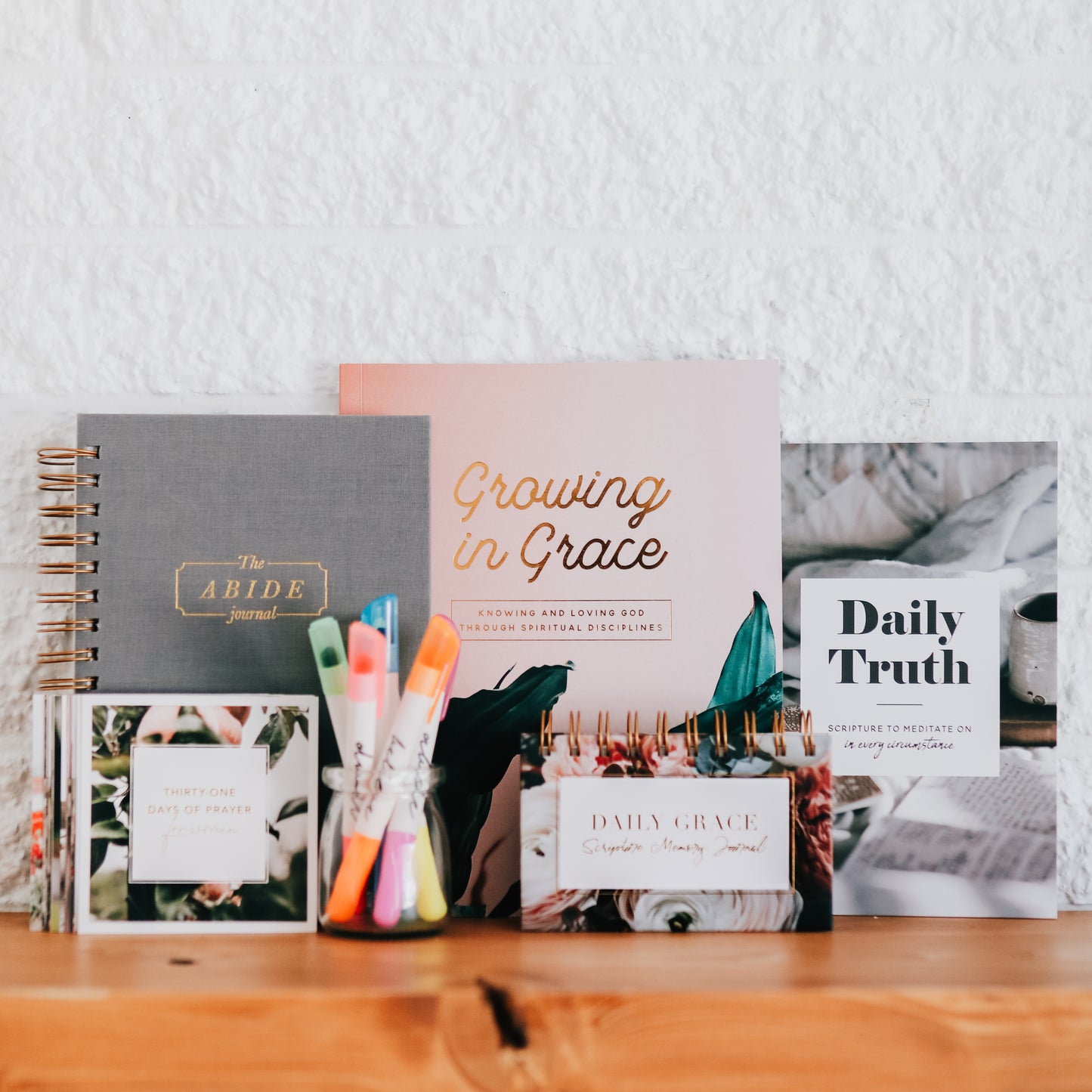 3 Bible studies and additional items
I was so pleased w the look of the items I ordered. I was pleasantly surprised when I read through the content of the Bible studies that I received! I know that my girls are going to be so happy and blessed as they move through them. Tysm!!🌻
Growing in Grace
Amazing resource. Packed full of information but so easy to follow. Thank you!
Beautiful Products
I am an all or nothing type person so I have literally bought so many items I can do Bible studies for the next two years. Their products are high quality at an affordable price. I'm doing the 2023 Daily Grace Prayer Calendar currently and I love it!
Great Starter Set
This is a great starter set to kick off the new year and dive into devotion! Simple daily studies perfect for a beginner or advanced bible reader.
We want everything on your site!
My daughter introduced me to your site and we are hooked! I got a small box of things to get me started and gave her a lot because she goes through it so fast. Your product line is as beautiful as it is effective, teaching simply. Thanks so much!