Regular price
$32.00
Sale price
$32.00
Unit price
per
Sale
Sold out
This bundle includes Volume 1 and Volume 2 of the Hymns studies.
Hymns Study | 4 Week Study
Let the word of Christ dwell richly among you, in all wisdom teaching and admonishing one another through psalms, hymns, and spiritual songs, singing to God with gratitude in your hearts. Colossians 3:16
Many of the hymns we sing today have been around for hundreds of years. Have you ever wondered about how these songs came to be or about the believers who penned the words? This second volume of our Hymns study provides a glimpse into the hymn writers' stories and how their testimonies informed the songs they wrote.
Hymns Vol. 1 & 2 are 4-week study that equips believers to:

Learn the stories behind the songs we sing today.

Understand the theologically rich foundation of hymn writing.

Recognize how Scripture connects to hymns and corporate worship.
Special resources within study:
Lyrics for each hymn

What is the Gospel?
Key themes: Testimony, Thankfulness, Praise, Corporate Worship, Hope in Christ, Holiness, God's Character

Details: 
This study is perfect for individuals or groups. 

Each week contains five days of study material, including daily study questions, a weekly memory verse, and weekly reflection questions. 

Measures

 

8x10

Includes 85 pages


Does not include sheet music
View full details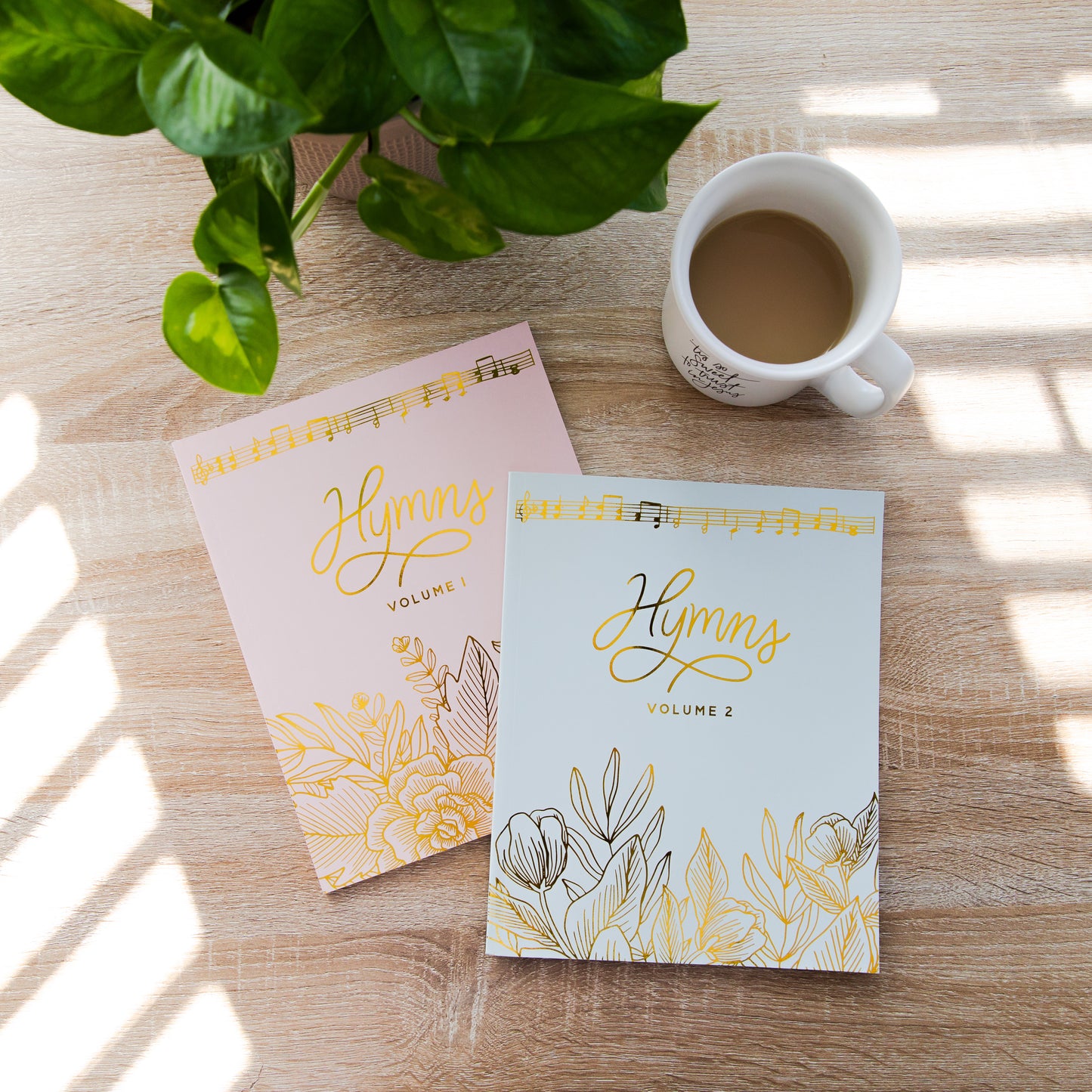 Beautiful
Just reading the lyrics to the old hymns is uplifting, God-honoring, and worshipful, but add beautiful photographs and fonts, along with the backstory of the hymns, and you have a masterpiece! What a wonderful way to start each morning to turn my heart Godward!
Get it!
My husband and I haven't started using the guides yet, but they look so beautiful! I love how beautifully made they are!
Restoration for the Soul
I have enjoyed learning more about hymns and the Lord through reading Scripture and through the metanarrative lens. I will be purchasing a packet for a dear friend who loves music and is going through a season of suffering.
Beautiful Book
This book is beyond beautiful and such a great resource. I love diving deeper in the hymns I've heard through music and devotion.
Wonderful background information
I love to learn the history behind songs, especially hymns. I feel like it gives you more appreciation and adoration for the Lord when you understand the reason those words were penned. This study is a great way to learn something new about many of the hymns you sing at church while also getting you in your Bible to learn more about the Lord. It's one of my favorite studies!