Regular price
$20.00
Sale price
$10.00
Unit price
per
Sale
Sold out
Follow Me | A Study on the Gospel of Mark | 6 Week Study
Have you ever wrestled with doubt or struggled with faith?
Follow Me is an in depth study on the gospel of Mark. The gospel of Mark is an invitation to follow Jesus. It invites us to step forward in faith, even in our weaknesses and doubts, and pursue the One who welcomes us into a relationship with Him. The book of Mark teaches us how following Christ is not a one-time action but a lifelong pursuit. Every day for the believer in Christ is a day to trust and obey the God who gave His life up for us.
This study is helpful to new believers and to those who are curious about what it means to be a disciple of Jesus. But this study is also for those who are wrestling with doubt or struggling with their faith. The book of Mark provides answers for the curious, guidance for the new disciple, and comfort for the doubter.
Follow Me - A Study on the Gospel of Mark will: 
• Teach you who Jesus is
• Discuss how and  why we can joyfully dedicate our lives to follow Him
• Explore what it means to be a disciple of Jesus
Special resources within study:
Study Suggestions
How to Study the Bible
The Attributes of God
Timeline of Scripture
Metanarrative of Scripture
Places of Jesus' Ministry 

What is Faith?
Jesus' Authority & Power
What is the Gospel?
Key themes: Doubt, weakness, relationship, trust, obedience, discipleship
Details: 
This study is perfect for individuals or groups. 

 6-week study.




Each week contains 5 days of study material, including daily study questions, a memory verse day, and a weekly reflection day to help dig deeper into Scripture.

Study measures 8X10
Includes 168 pages 
View full details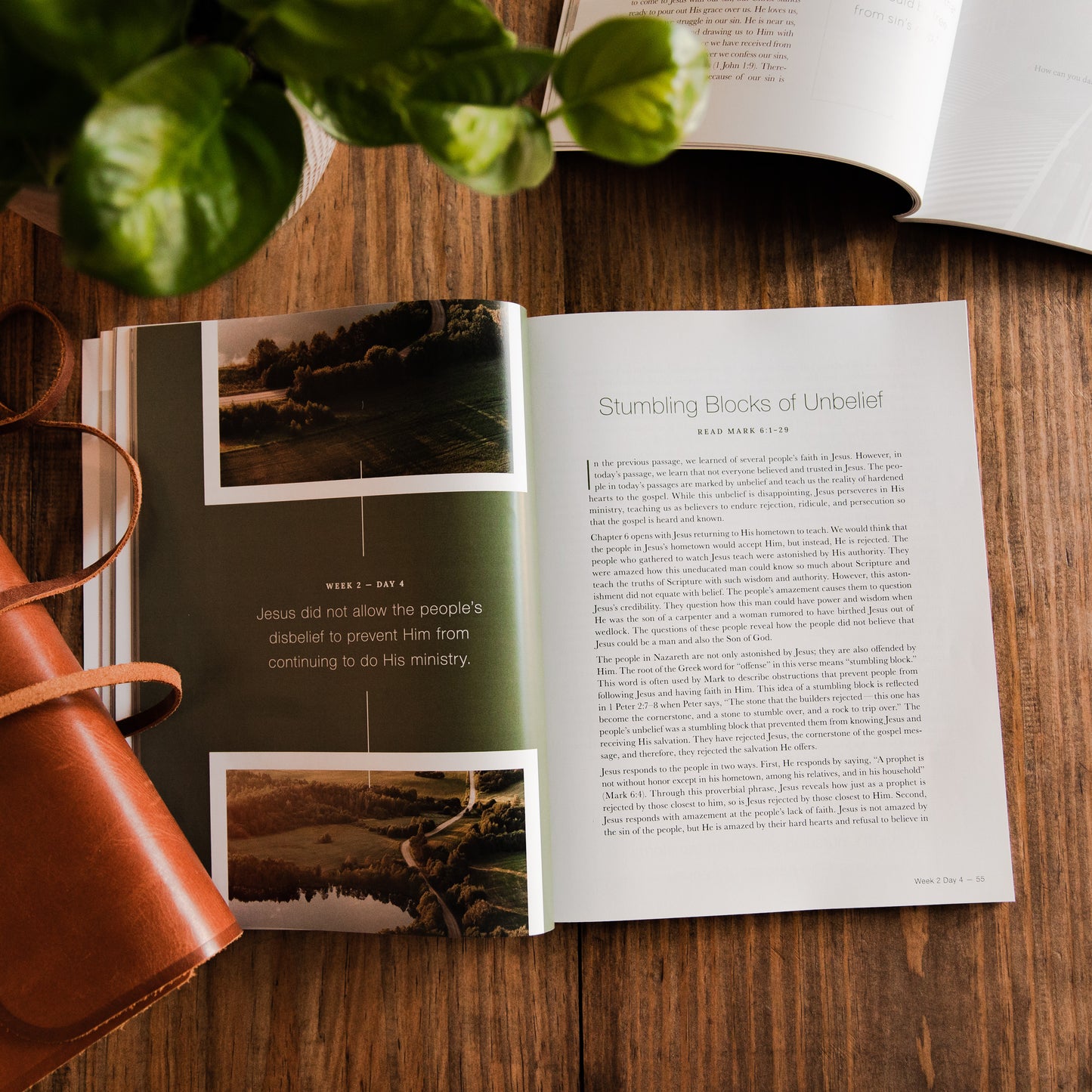 Follow Me- the gospel of Mark
This study was great for my husband and men from our church to walk through together.
Follow Me download
I'm beyond excited to have both the digital version and the actual book for this study. My small group is reading this study together and it's going to be amazing. Thank you for making the word of God accessible to all!
Wonderful study
Love everything about it! Would highly recommend for small groups!
Follow Me | A Study on the Gospel of Mark
The Study on the Gospel of Mark has been a huge encouragement to me. In a season where I wanted to learn how to follow Jesus more, this study showed me how the disciples followed Jesus and what it was like. I also learned the authority that Jesus holds over everything and how following him takes faith in every season. I have learned why Jesus is better to follow than other things in this world that I may be tempted to follow. My trust in God is growing by spending time in this study and letting his truth fill me.
Digital bonus
I love that for every daily grace study I purchase I receive a digital version for free. The digital versions are so good for hectic mornings or studying on the go. I find that often the digital versions also have a bonus of their own such as videos or the ability to read other's thoughts in comments. I highly recommend these!