Regular price
$20.00
Sale price
$10.00
Unit price
per
Sale
Sold out
Mercy in the Storm - a Study on the Book of Jonah
Jonah is more than a story about a big fish and a wayward prophet. The story of this minor prophet is ultimately about the patience of God and His undeserved mercy towards sinners. The Lord pursues the outsider to welcome him into His family, and He goes to great lengths to sanctify His own. Jonah reminds us that the gospel is good news for all people.

Mercy in the Storm | A Study on the Book of Jonah is a 4-week study that equips believers to:
• Recognize how God uses imperfect people to bring out His perfect purposes.
• Rest in God's sovereignty in all things.
• Identify and repent from the ways we run from God and His plan for our lives.
Special resources within study:

Jonah's Journey
Literary Devices in Jonah
Jonah and Jesus
Key themes:
Holiness, Righteousness, God's Patience, Obedience, Idolatry, God's Sovereignty
Details:

This study is perfect for individuals or groups.
Each week contains five days of study material, including daily study questions, a weekly memory verse, and weekly reflection questions.
Measures 8x10
Includes 120 pages

View full details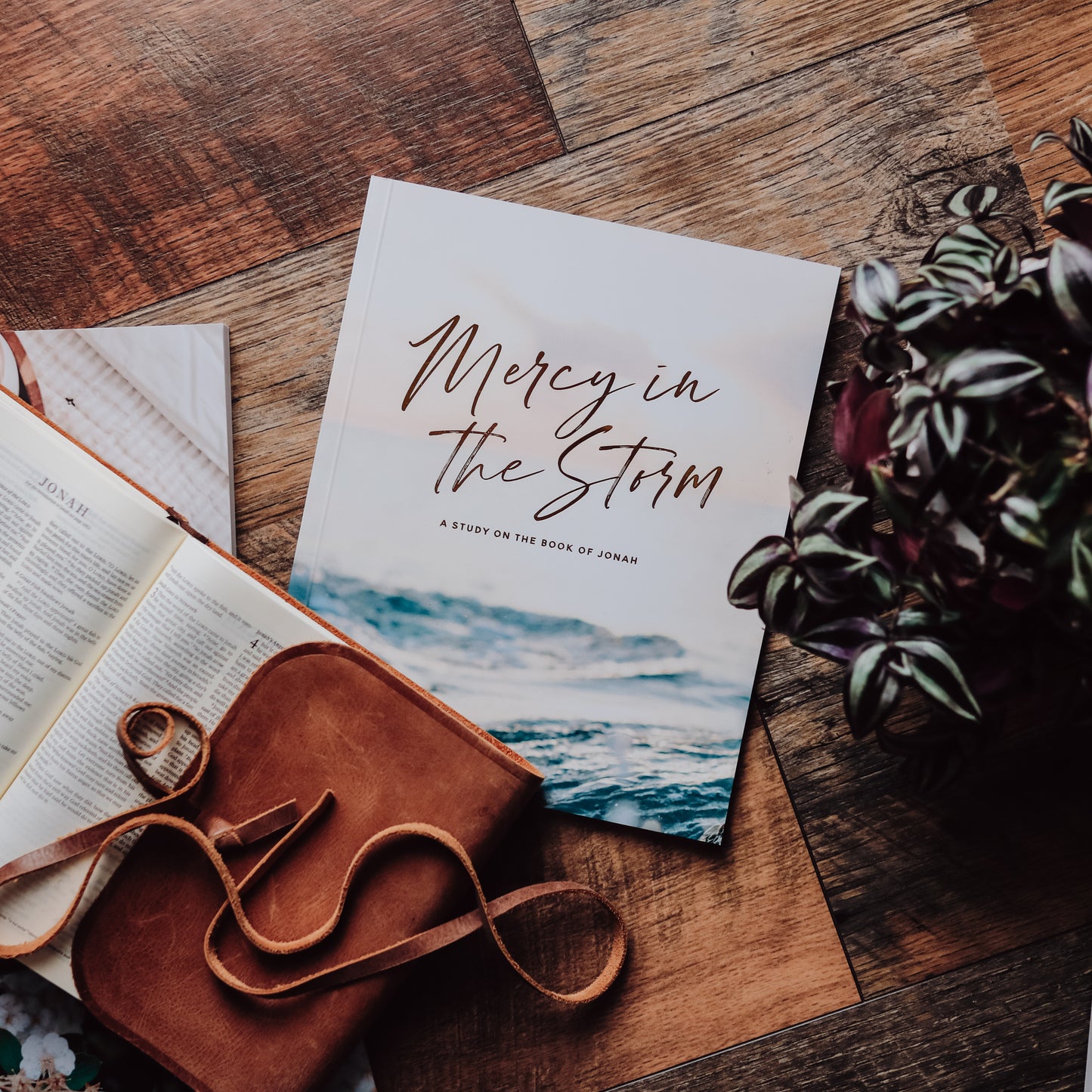 AMAZING!! A must -read bible study
I was raised in church's children dominical bible studies, so Jonah's book is one that I thought I knew. However, this study does an amazing work in giving a new perspective of Jonah's character and his situation. God spoke to me throughout all the study. It was a great time. 100% recommended.
We shall see. This is a Christmas gift.
Beautiful Study
I'm only halfway through Mercy in the Storm, but it's been the best DailyGrace study I've done to date. The perspective and reminders of His mercy in our regular, daily life are life-changing.
Superb!
In preparation to lead a September-November study, I have worked through MERCY IN THE STORM on my own. What an excellent study FULL of surprising applications! Please to give this study a try! It is outstanding!
Book of Jonah
Really thrilled to start this study, I feel like I need a study to go through any Book of the The Holy Bible to help me grasp and understand it better. And to also pray to God for understanding.