Regular price
$64.00
Sale price
$64.00
Unit price
per
Sale
Sold out
This collection includes the following products:
In the Word - a Biblical exposition journal for in-depth Bible study. The Journal guides you through a verse by verse study of a book of the Bible with daily workbook pages. The journal provides prompts to help you understand, interpret, and apply the text, as well as see the connections to Jesus and the gospel.
Search the Word - a six-week study and workbook that takes an in-depth look at how to study the Bible. This study is full of instruction, examples, and hands-on workbook pages to help you develop skills like understanding the context of a passage of Scripture, annotating the text, interpreting and applying the Bible to your life, and seeing Christ in all of Scripture. The Bible is the Word of God that He has given us to know and love Him as we grow in godliness, and Search the Word helps give you the tools and confidence to approach Scripture rightly.
Book by Book - a Bible study companion intended to be used when studying a complete book of the Bible. It provides space to fill in background information before you study; key themes, book structure, and Scripture to pray during your reading; and reflection for after your study.
View full details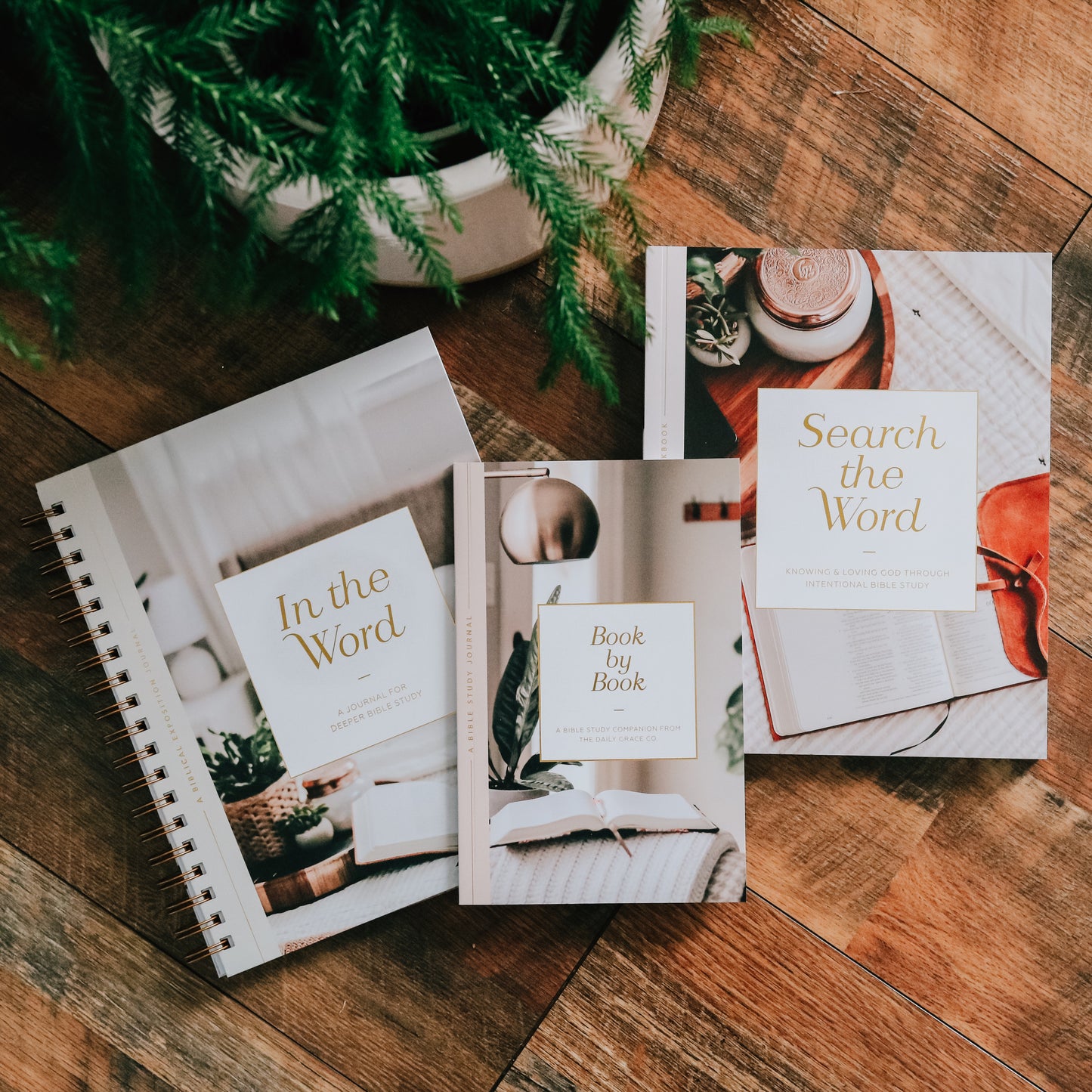 Great for any level!
I've been a Christian all my life, but this resource really helps understand different ways to Bible study, and how to grow deeper during our Bible reading. They make each day/reading short, but profound, and simple enough that anyone can follow along and apply what is learned. I am enjoying learning the different ways to Bible study, and I feel like I'm grasping Scripture and digesting it more than before. Thank you to the whole Daily Grace Co team!!
Hope has come - advent
Amazing study. Very convicting and thought provoking. Enjoyed the advent study very much. Great way to read and study the bible
The Books
Set of three books, book by book, search the word and by the book. All the books are beautifully presented and arrived in excellent condition very promptly. Very happy with my purchase.
Love this collection!
The Search the Word collection has everything I need to read and understand the Bible in the context it was meant to be read in. It asks great questions that turn you back to God's character and real Truth. I love that TDGC compiled all of these resources into one bundle.
Wonderful product
I am so thrilled with this purchase. I am in need of guidance and understanding as I start my journey in studying the Bible more in depth. The Search the Word study is helping me and I love that you can make it your own pace. The Daily Grace app is another wonderful part of this experience. I love that the studies are accessible on my phone wherever I am. I've already made additional purchases and I'm very happy with every piece. Thank you.