Regular price
$12.00
Sale price
$5.00
Unit price
per
Sale
Sold out
Relationships with unbelievers can be difficult. We so desperately want the people we love to know Jesus, but at times, we may not know what to do. In fear of pushing our unbelieving family and friends away, we may be tempted to remain silent. Though we feel helpless, God strengthens and encourages us to pray. Through prayer, we can participate in the saving work Jesus is doing in the hearts of sinners. 
This set of 15 cards includes prompts to intercede for specific unbelievers in your life. One side of each card has a verse, and the other side has a corresponding prayer request.
These cards are made of 
heavy weighted professional card stock.
The small 4x4" size m
akes them easy to take with you as you go about or day or place them around your house as a reminder to intercede for
unbelievers all around you.
View full details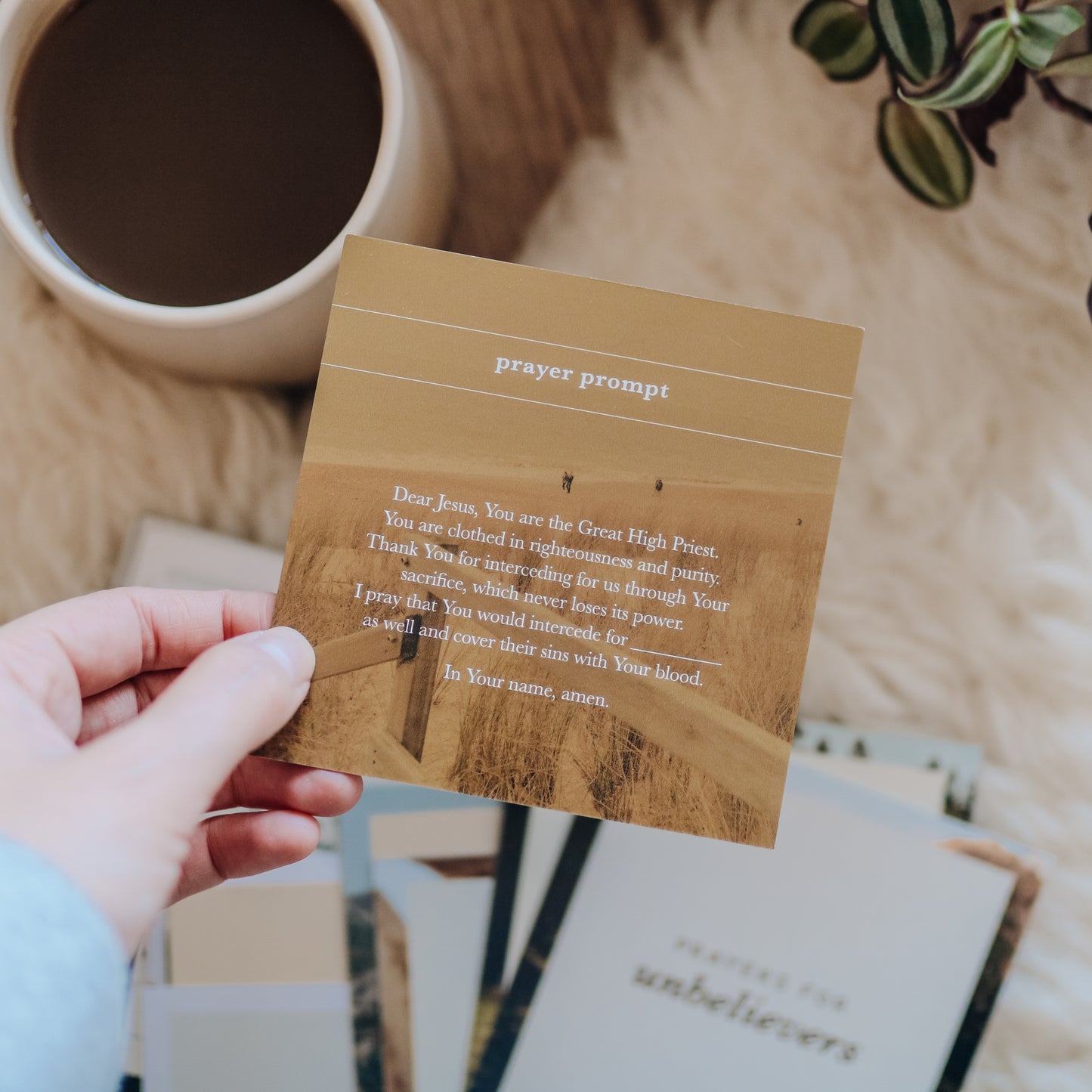 Adorable Little Cards
These are great little cards that have Bible verse prayers for those who are not believers. Use these with our Bible study group.
Beautiful
These cards and prayers are so beautiful! I so believe in the power of prayer but it's still hard to implement sometimes, lol. These make it easy to make it a discipline because I can rotate through a card a day and stay intentional about praying for my friends and family that don't yet know Christ!
Amazing!
I love these cards! I had a hard time finding the words to pray for my loved ones who are not saved (yet) and these make it so much easier. I keep them organized in a cheap photo album to review them daily.
Love!
These have been so helpful with getting me to focus better during prayer. And they're beautiful!
Much Needed….
These cards have been something I have been wanting to have. My husband told me 3yrs ago that he doesn't love Jesus anymore and hates Christianity. I have been trying to find ways to pray for him and comfort my own soul and these have been great.