Regular price
$40.00
Sale price
$20.00
Unit price
per
Sale
Sold out
This bundle includes one women's study book and one men's study book.
Amen | 5 Week Study | The Story of Scripture from Eden to Eternity
Do you struggle to connect the dots between the Old and New Testament? Are you wanting to learn more about the different genres of Scripture and how each book of the Bible points to Jesus? Scripture tells one, big, cohesive story and this study will help you discover it.
Amen: The Story of Scripture from Eden to Eternity is a five week study that will: 
- Walk you through all the genres of Scripture to show how everything from the law and prophets to the gospels and epistles point to Jesus and HIs redemptive plan.
- Help you understand and identify the metanarrative of Scripture: Creation, Fall, Redemption, and Restoration
- Give you invaluable tools and knowledge so that you can interpret and apply Scripture to your everyday life
- Leave you with a greater understanding of who God is, how He works in the world, and His redemptive plans and purposes
Special resources within study:
Study Suggestions

How to Study the Bible

The Attributes of God

Metanarrative of Scripture

Bible Facts

Books of the Bible

Timeline of Scripture

The Story of Scripture

What is the Gospel?
Key themes: The Story of Scripture, The Gospel, Scripture, the Character of God
Details: 
This study is perfect for individuals or groups. 

Each week contains five days of study material, including daily study questions, and weekly Scripture memory verses and reflection questions. 

Measures 8X10

Includes 140 pages 
View full details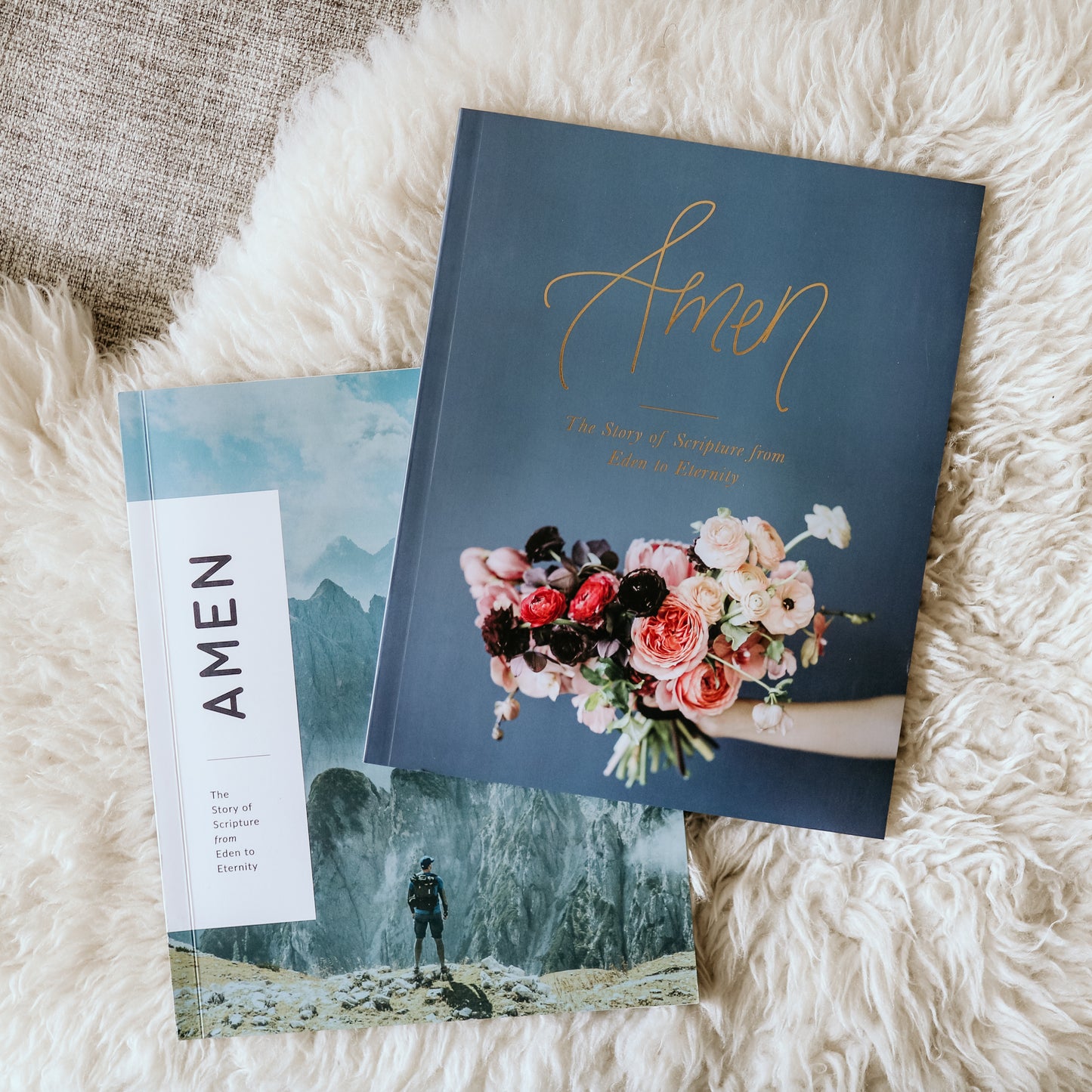 Love it!
This was such an enocuraging study to go through, highly recommend.
Wonderful and simple!
I'm loving the Amen study! I was looking for something that was simple and didn't require too much homework. Exactly what I was looking for in diving into a study for the first time in a while. Everything is super well written and thought provoking.
Amen Eden to Eternity
This has been a great study to walk through with high school guys that are new to faith. Going through the whole of Scripture has been really helpful for them to see how God guides each step of their lives. I have enjoyed going through it alongside them. As student pastor, it is a great tool to use for those trying to understand the importance of Scripture.
My first study
This was the first study I bought at Daily Grace Co. After the first day of doing this study I immediately fell in love and gained a deeper understanding of how the gospel points to Jesus. So obsessed with the aesthetics, format, and material. Can't wait to get into more studies from this company! So glad to have found them. They are life changers doing the lord's work!
Beautiful study
These bible studies are so pretty, but also so good. They are so well put together!