Regular price
$96.00
Sale price
$96.00
Unit price
per
Sale
Sold out
This bundle includes six children's board books:
Counting Through the Bible
God Cares How I Feel
Sweeter Than the Sweetest Honey
God Listens When I Pray Board Book
Attributes of God Kids Board Book
Armor of God - Board Book

Children's Board Book Bundle is a durable board book collection that is perfect for children ages 0-3
View full details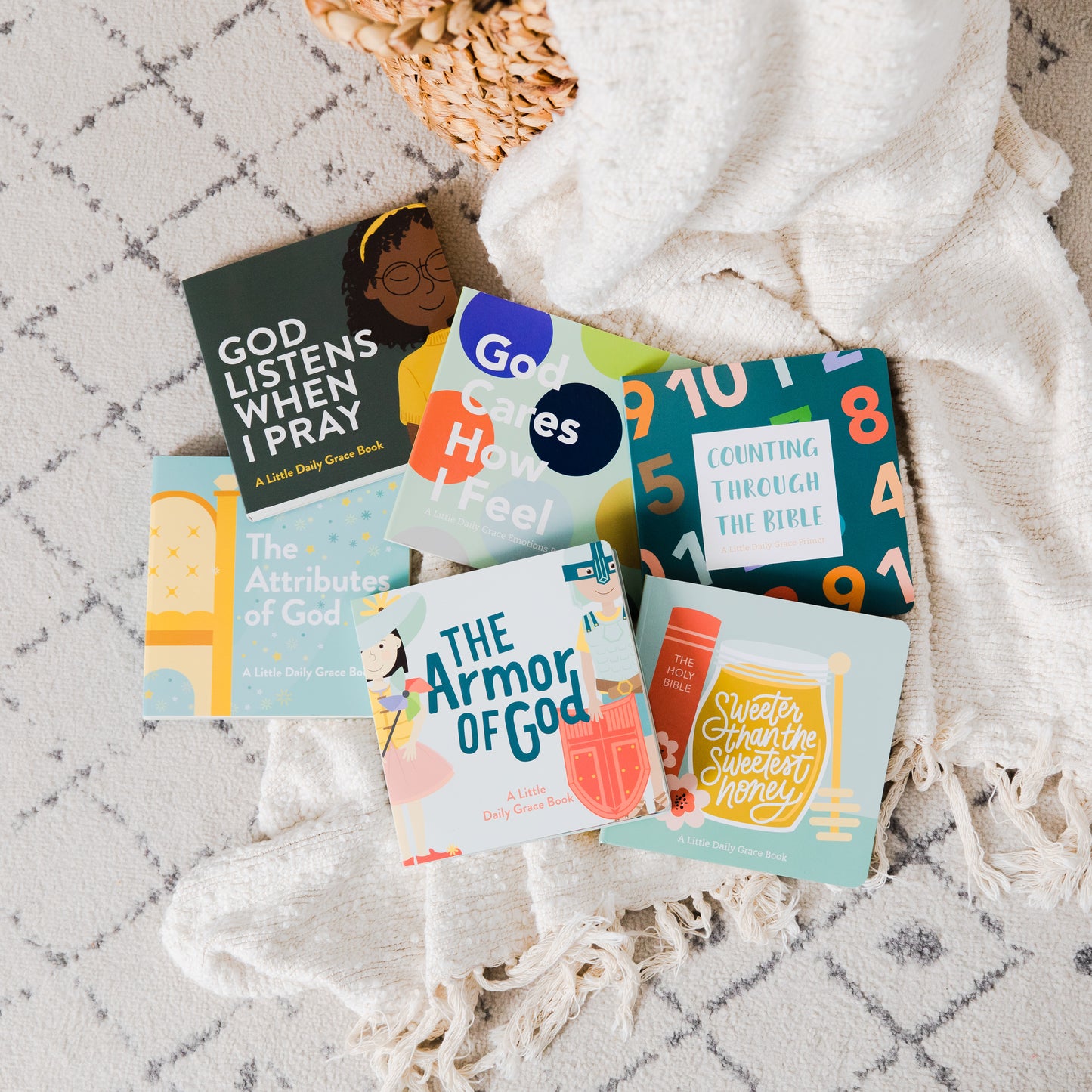 THANK YOU THANK YOU THANK YOU. EVERY BOOK IS JUST SO SPECIAL. I ORDERED THESES TO USE IN MY CHILDRENS MINISTRY CLASSROOM. I teach 1st-3rd grade almost every Sunday. This is for the Lords kingdom. May the hearts of those children be prepared to receive all that our HEAVENLY FATHER has for them. Amen Amen
BOOK BUNDLE
I absolutely love this book bundle!! The quality of the books are amazing and they are perfect for toddlers/small children, because no matter how rough your kiddo is, they can't damage the books. I love the design of each book and the illustrations in them. I love reading these to my daughter because I also get something out of them. There is so much biblical truth behind each book and that is so important. I love finding my daughter "reading" these all by herself. It makes this mama's heart so happy to know seeds are being planted because of these books!🤍
Adorable!
These books are beautiful and perfect for introducing young minds to Christ!
Awesome book
I definitely thought these would be sweet and cute, but more fluff than actual meat. If that makes sense? I was so wrong and I'm thrilled to have been wrong. These are so well written. They're still cute and sweet, but they're absolutely packed with scripture and biblical education points for little kiddos. I'm so impressed and I love them so much. So worth the wait that we waited for them to restock! Now I know why they keep going out of stock! ;-)
Happy for the bundle & it's variety
All of the books in this bundle were nice, thick & sturdy with great durable quality. I'm happy I got the bundle instead of just 1 or 2!