Regular price
$30.00
Sale price
$20.00
Unit price
per
Sale
Sold out
Colossians | 6 Week Study | Rooted in Him
This bundle contains one men's and one women's Colossians study books. 
Jesus. 
Colossians points us to Jesus. This letter gives us a beautiful picture of our Savior and compels our hearts to worship and adoration.
Whether you have been studying the Bible your entire life, or this is the first time you have ever studied God's Word, we think this study will encourage your heart and point you to Jesus who satisfies our souls. 
Colossians | 6 Week Study | Rooted in Him equips believers to: 
Learn 

joy, peace, and contentment are found in Christ alone.

Recognized how Colossians points to Jesus through each verse.

See 

Who Jesus is & how we can follow in His ways 

Special Resources within this study:
Map of Colossae 

Helpful Tips for Memorizing Scripture 

"What is the Gospel" presentation 

Word Study 

Charting Paul's Suffering in Ministry explanation and illustration. 
Key themes: Faith in Jesus, Thankfulness, Supremacy and Sufficiency of Christ. 
Details: 
This study is perfect for individuals or groups. 

Each week contains five days of study material, including daily study questions, a weekly memory verse, and weekly reflection questions. 

Measures 8x10

Includes 160 pages
View full details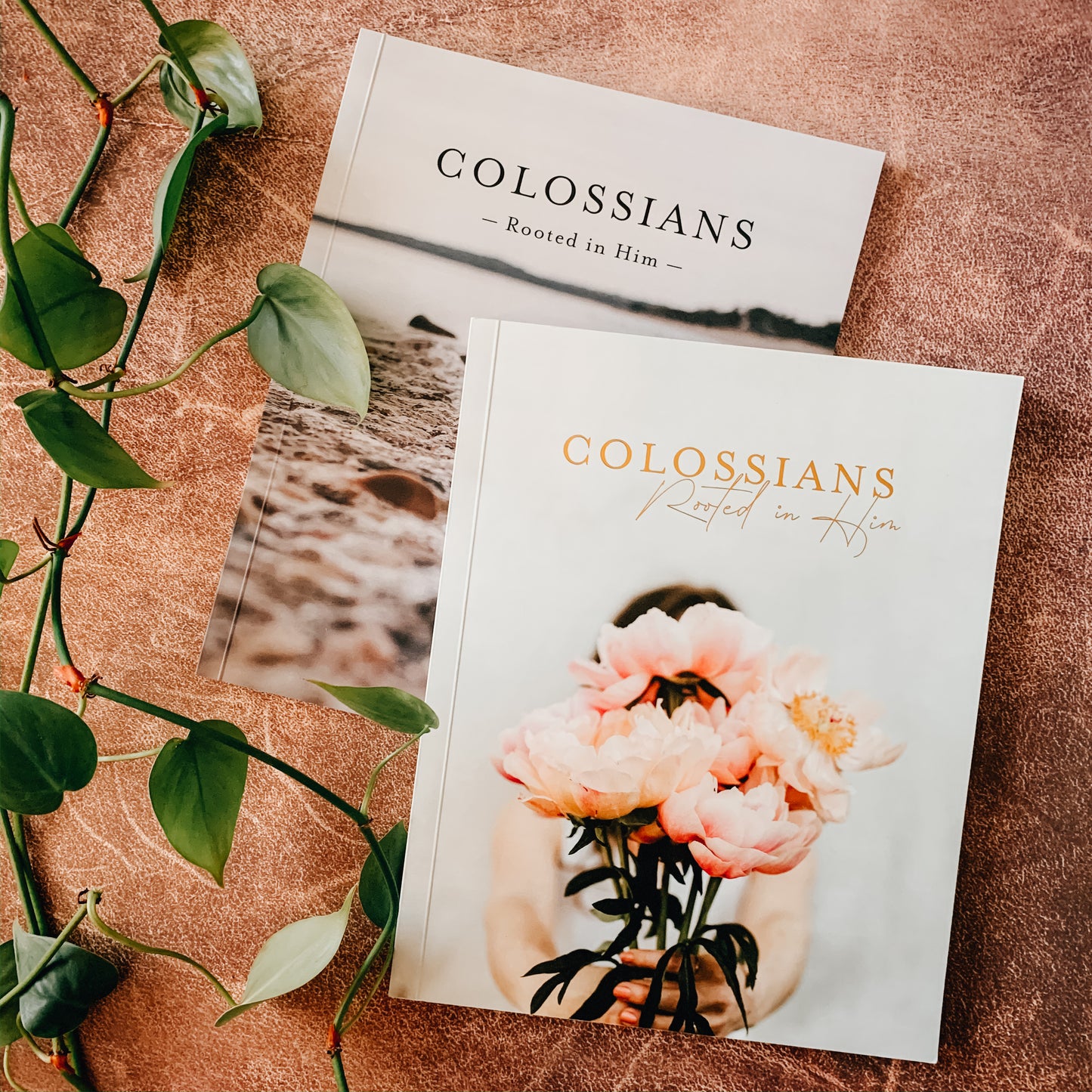 Gift for Sister and Brother-in-law
I bought this bundle for my sister and her husband for Christmas. I've loved the Daily Grace Co Bible studies, and I'm excited to share it with them!
I love it!!
The book has deepened my understanding of Jesus and how to fully abide in Him
Colossians Group Study
Our group enjoyed the study on Colossians. We would skip the weekly end questions because they were repetitive but enjoyed sharing the daily questions when we gathered.
Excellent study for small groups!
Our women's bible study ordered these because we had more women sign up than expected and the women's version was out of stock. It is identical to the women's version, including page numbers, which was so helpful! The only differences are the pictures and the font, and some women actually preferred the muted tones and pictures of coffee.
As for the study itself, we have really enjoyed it! It is well written and there is a lot of encouragement for personal study of the scripture on your own. The questions really get to the heart of each passage and lend themselves to discussion within a group.
Great Study!
This was such a great study to complete. It was encouraging and helpful in my walk with the Lord.