Regular price
$40.00
Sale price
$20.00
Unit price
per
Sale
Sold out
By Faith | 6 Week Study

This bundle includes one women's study book and one men's study book.
The gospel changes everything for us as believers in Christ. It should cause us to live differently as we walk in freedom. But what does it look like as Christians to live by faith in light of the gospel?
By Faith is a 6-week study that equips believers to:
Embrace the beauty of the gospel and its impact on our everyday lives.

Understand the purpose of the Law and good works in the Christian life. 

Walk in the freedom provided through Christ's sacrificial death.  
Special resources within study:
Map of Paul's Journey from Jerusalem to Damascus

Running the Race: The Process of Sanctification

What is the Gospel?
Key themes: The Gospel, Justification, Sanctification, Faith, Freedom in Christ
Details: 

This study is perfect for individuals or groups. 

Each week contains five days of study material, including daily study questions, a weekly memory verse, and weekly reflection questions. 

Measures 8x10

Includes 163 pages
View full details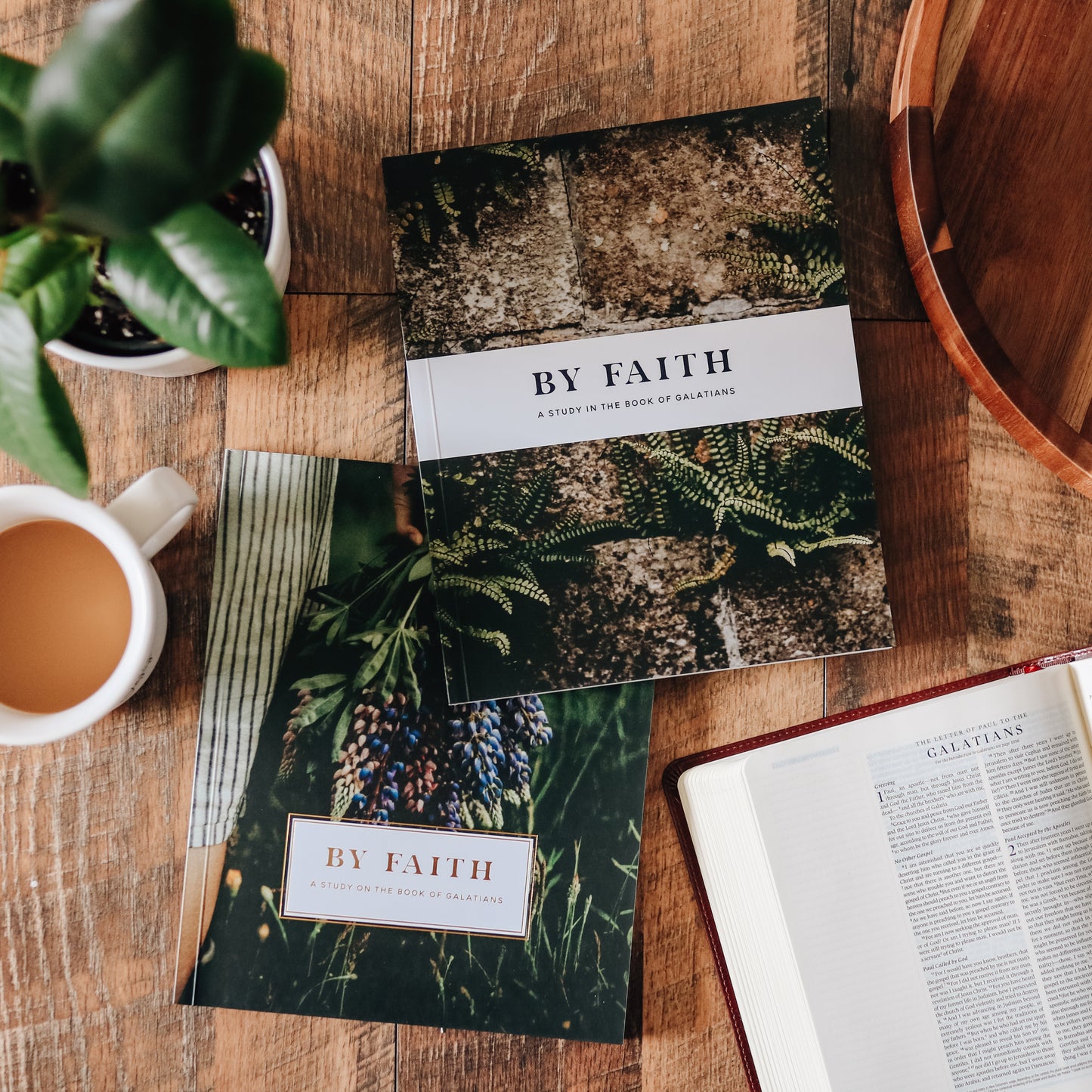 I love it!!!
We got the Bible Study for my sisters so that we could do a devotional together. We are excited to go through it.
Good, for the most part
These studies are beautiful, and I appreciate the time and effort that must have gone into them!! I do come across things every other day, I think, that feel just enough off that I wonder if maybe I'm not the target audience for this company.
For example, Week 2 Day 2 is on Gal. 2.11-14, when Paul tells the Galatians about how he rebuked Peter for separating himself from the Gentile Christians because he was afraid of the Judaizers and their theology that Christians must be circumcised to be fully part if the Christian Church. We are instructed to read Acts 10, which is good- about Peter's dream that anything God has made clean is clean, and on that dream, begins evangelizing and socializing with Gentiles (who were considered ceremonially unclean and Jews were not even allowed to go into their homes, according to Pharisaical Law).
Then question 2, "Paul's public correction of Peter is sharp but necessary. Read 1 Timothy 5.20-22. Why is loving correction a good thing within the church?"
1 Timothy 5.17-25 is specifically instructions about elders. Paul is telling Timothy that elders must be an example for the body to follow, and their sins affect the whole body "from the top down," as Peter's did when he became afraid of socializing with the Gentile Christians. Leaders must be *more* accountable, not less so because of their titles; this is the point of that verse in 1 Timothy. It has nothing do with "loving correction (in general) [being] a good thing within the church."
Overall, I appreciate this study and have one on John to go through as well, but, I have a few questions about where the author(s) are coming from or what they hope for. For someone who doesn't actually*know* their Bible, this type of verse cherry-picking is what creates modern-day legalists, and definitely puts me on alert. Just enough Scripture to be dangerous, not the full picture. I hope this isn't a common theme in these beautiful studies!!
Wonderful!
Did this study with a group of friends and it was SO grounded and wonderful! It gave a lot of context I may have missed otherwise, and constantly brought it back to the gospel.
Absolutely Amazing!
As someone who has struggled time and time again with the justification of faith, this study helped me so much! I love the practical approach this study takes to the word and it's wonderfully written. 10/10 would recommend
So important!
Gal. is one of those books you keep going back to, especially when you're new and still shaky in the faith.