Regular price
$64.00
Sale price
$42.66
Unit price
per
Sale
Sold out
This bundle includes four of our children's books from the Sophia Series:
Sophia Shares Her Hope
The first book in a series about a young girl named Sophia. Sophia is an eight year old girl who loves Jesus and is learning to share about Him with others. Through cute rhymes and poems, this book follows Sophia to school as she learns to share the hope of Jesus with her friends.
Sophia Learns to Pray

Sophia when she misplaces her very best friend, Norman the teddy bear. Sophia hasn't prayed before, but her Dad helps her pray for Norman to return. Through the loss and eventual return of her teddy bear, Sophia learns that God hears and answers every prayer in the right time and way. 

Sophia Gets a Bible

Sophia as she has a fun day with her grandmother. When Sophia's grandmother comes to the house one day, she carries a beautiful yet mysterious present. Sophia eyes the present all day with great curiosity, wondering what could be inside. When the time finally arrives to open the gift, Sophia is delighted to discover that it is her very first Bible! 

Sophia Says I'm Sorry

Sophia Says I'm Sorry follows 8-year-old Sophia when her best friend, Nathan, breaks her toy doll. Sophia learns what forgiveness means and how she is called to extend forgiveness to others just as Christ forgave her.
Children ages 2 and up will love this beautifully illustrated and engaging story. Parents will appreciate its theologically rich and thoughtful introduction to prayer.

View full details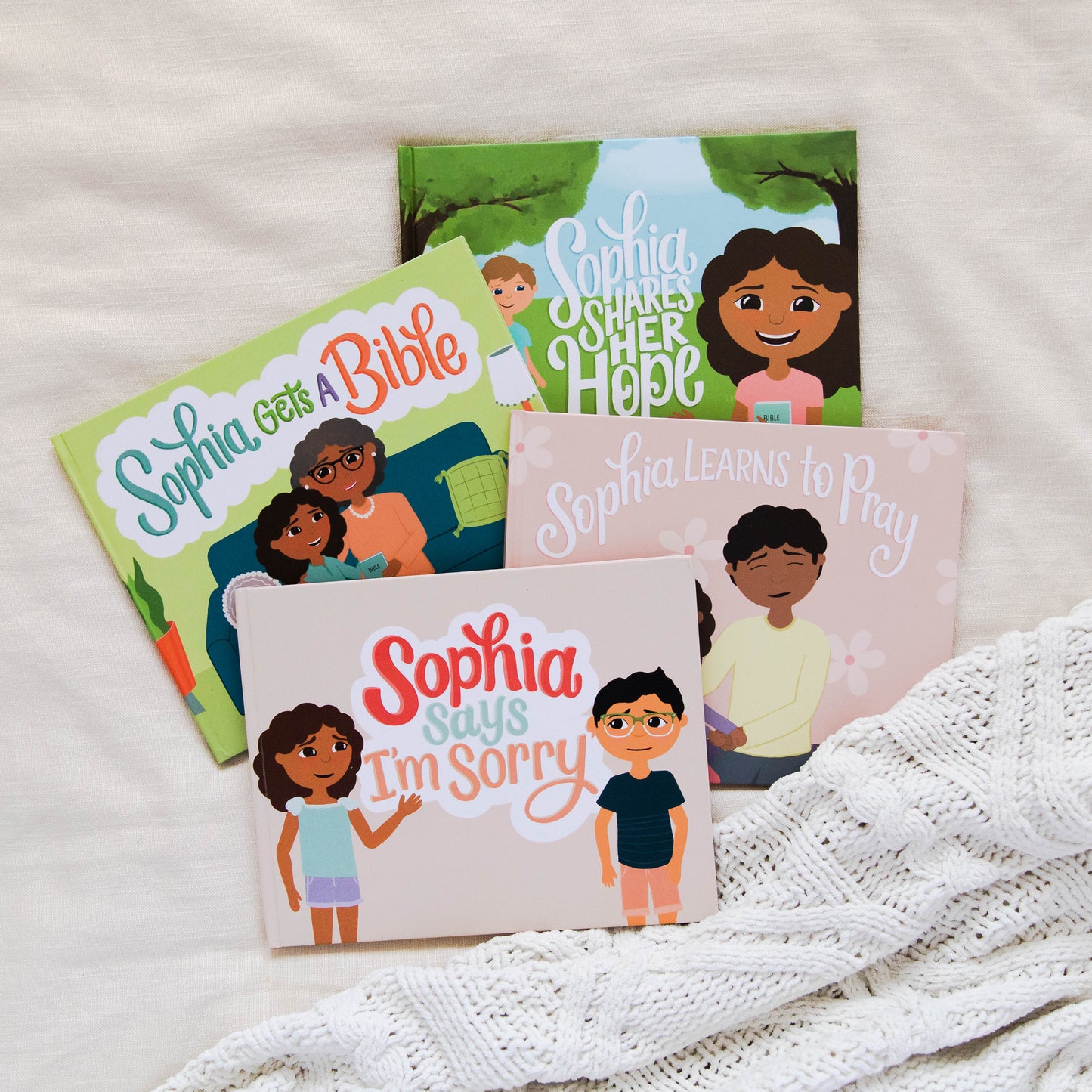 Teaching through stories
The Sophia Book Collection was a great way to introduce my toddler to basic spiritual disciplines at a young age. It's been such a great tool in teaching him about forgiving, praying, reading the bible and sharing the gospel. These can be hard topics to explain to a toddler, but I wanted to teach my son from a young age and these books have really helped to open up discussions with him, even if it's just to get him to start thinking about these things. Would definitely recommend!
Wonderful children's books
I bought these books to read with my AWANA Sparks group. The books are colorful and engaging, with clear Biblical instruction. I definitely recommend these books!
Great products
Love the products and authenticity of the devotional and how sound they are to the word of God. Thank you for supplying my family with books and devotional for all ages and all situations!
Great themes for children
This set is beautifully illustrated and contains important spiritual lessons for children!
Peace for the Anxious Heart
Love this devotional so far. It enhances on a lot of work I have already placed anxiety and provides great verse references that are peace and life giving.