Regular price
$40.00
Sale price
$40.00
Unit price
per
Sale
Sold out
Discipleship relationships are intentional relationships between Christians to help one another flourish in the faith, love God more, and in turn to seek to glorify Him with our lives. This is a bundle of discipleship resources intended to be used as a tool to help establish and guide a discipleship relationship between two individuals or in the context of a small group. We pray these tools will guide you through discipleship relationships and provide materials for you to walk through together as you pursue spiritual maturity.
This bundle includes:
Better Together | Discipleship Guide - Men 
This resource includes sections on how to articulate a testimony, how to share the gospel, how to study the Bible, how to memorize Scripture, and how to cultivate a life of prayer. The goal of discipleship is ultimately that Christians would utilize these types of relationships to flourish in the faith, love God more, and in turn seek to glorify Him with their lives. 
Topics Covered: Discipleship, Local Church, Accountability, Prayer, Bible Study, The Gospel, Evangelism
Better Together Leader's Companion - Men 
Our hope for this resource is that it would serve as a valuable tool in your pursuit of intentional discipleship relationships. The Leader's Companion is meant to serve as a leader's guide to the Better Together discipleship resource.
View full details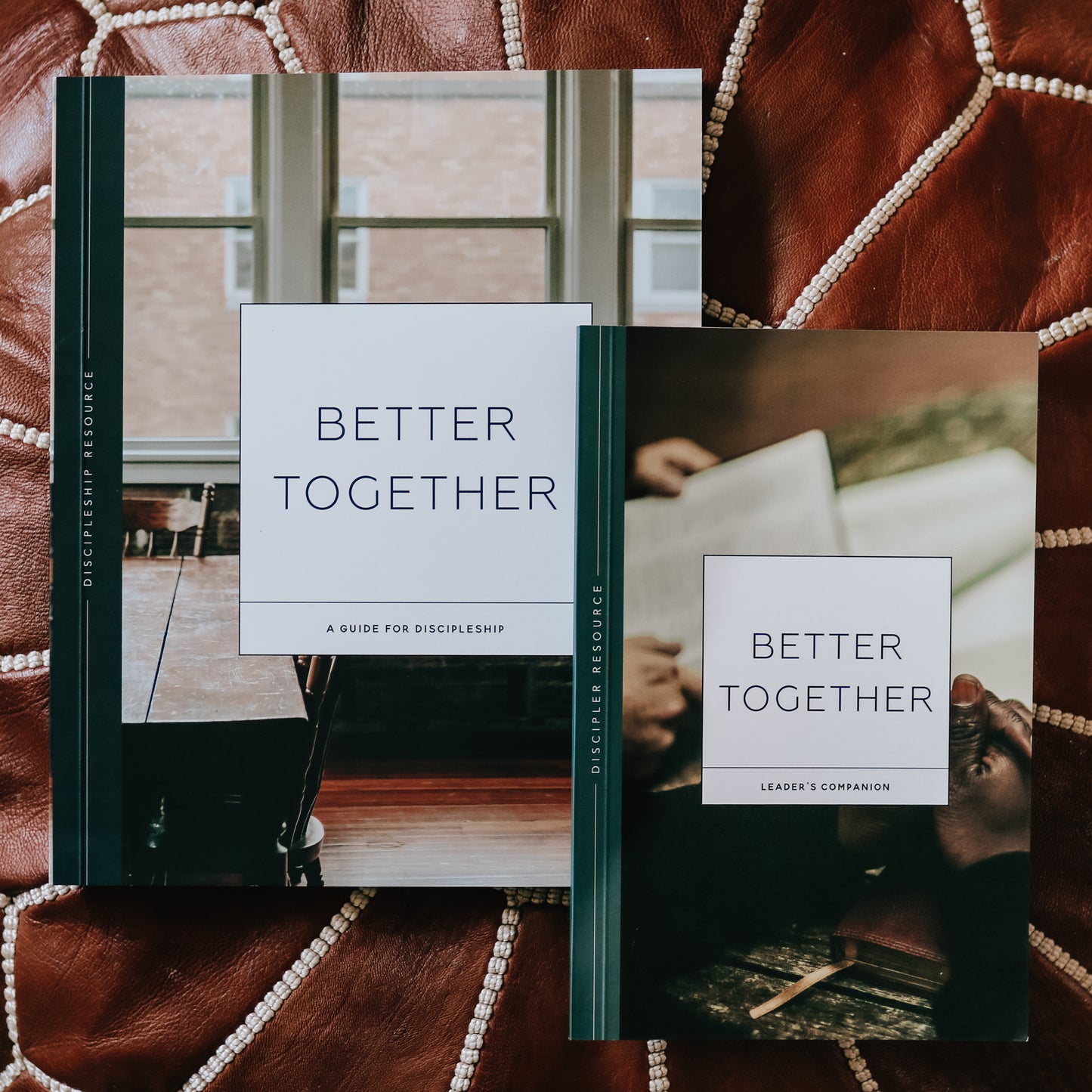 Helpful
I've only looked through it briefly but it will be helpful in setting expectations when leading any study.
Genuinely Better Together
My boyfriend and I started this so we could begin a foundation with God and we both really enjoyed it. It has allowed us to discuss our answers to the reflection questions and dig deeper into our thought process with Gods word and the emotions we feel.
Excellent books
The better together bundle is an excellent set to do as a couple. Love the books and my husband and I are enjoying our time together.
So helpful!
There's no better way to lead others than when you're indulging in Gods word. Thankful for this resource to grow and be a better leader. Lots of helpful tools in this for sure!
Wonderful!
This is a great resource for not only understanding the importance of discipleship, but also provides great resources to continue a discipling relationship long term!