Regular price
$40.00
Sale price
$30.00
Unit price
per
Sale
Sold out
Colossians | 6 Week Study | Rooted in Him
This bundle contains one men's and one women's Colossians study books. 
Jesus. 
Colossians points us to Jesus. This letter gives us a beautiful picture of our Savior and compels our hearts to worship and adoration.
Whether you have been studying the Bible your entire life, or this is the first time you have ever studied God's Word, we think this study will encourage your heart and point you to Jesus who satisfies our souls. 
Colossians | 6 Week Study | Rooted in Him equips believers to: 
Learn 

joy, peace, and contentment are found in Christ alone.

Recognized how Colossians points to Jesus through each verse.

See 

Who Jesus is & how we can follow in His ways 

Special Resources within this study:
Map of Colossae 

Helpful Tips for Memorizing Scripture 

"What is the Gospel" presentation 

Word Study 

Charting Paul's Suffering in Ministry explanation and illustration. 
Key themes: Faith in Jesus, Thankfulness, Supremacy and Sufficiency of Christ. 
Details: 
This study is perfect for individuals or groups. 

Each week contains five days of study material, including daily study questions, a weekly memory verse, and weekly reflection questions. 

Measures 8x10

Includes 160 pages
Unlock access to the study in The Daily Grace Co. app. It contains devotional content, videos, questions, scripture passages and an engaging community of fellow believers. Learn more here!
View full details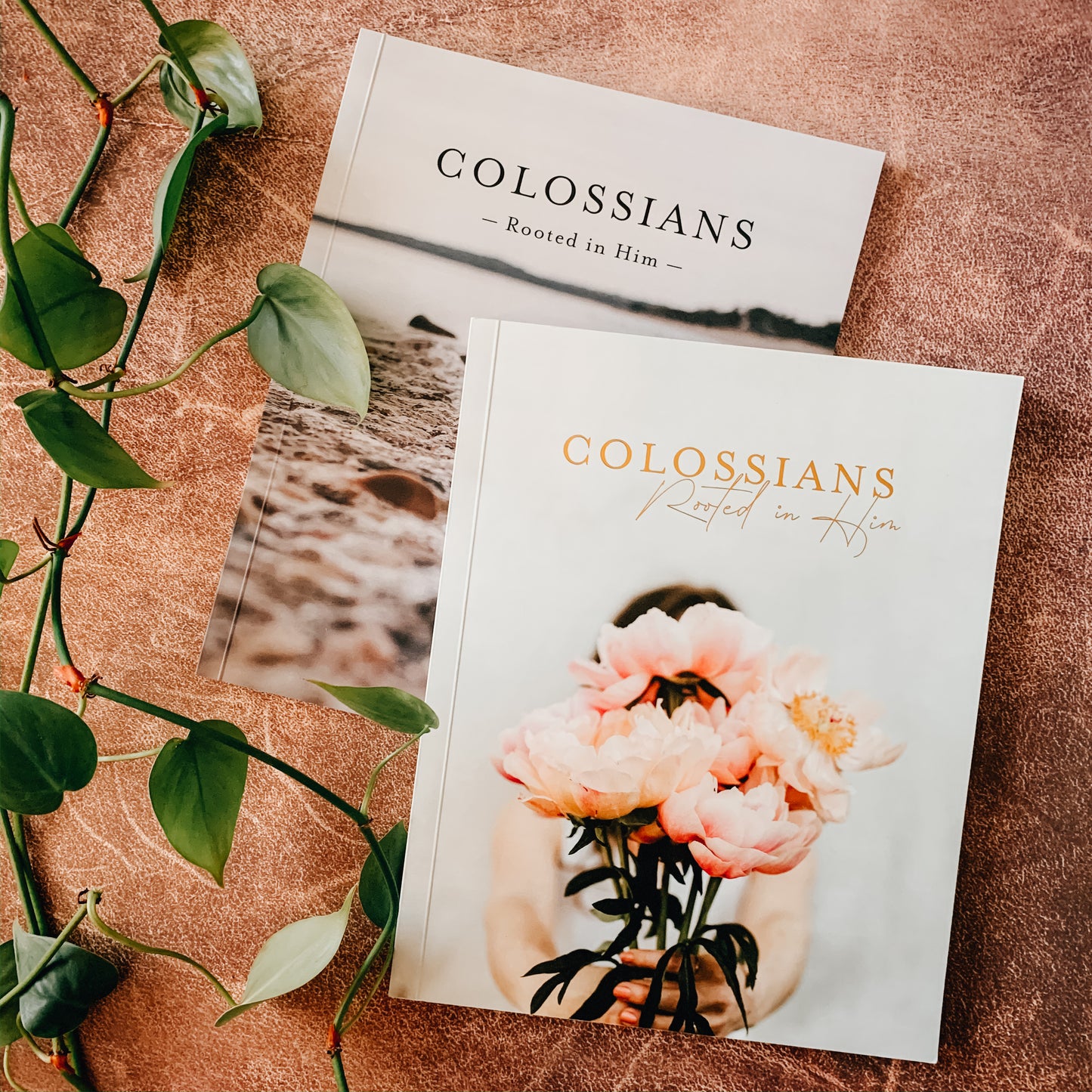 Incredible
This study has blessed me and brought so much joy into my bible study times. I am so thankful for these studies.
Christ Daughter
Hi, I have fully gotten to read my Colossians study book. I am on the hunt for a new Bible with being able to take notes. But I've read a few pages of Colossians and oh my…am already in love with it, even the artwork and depth of how the book breaks down for you to understand and the Bible verses. Im so happy I have came across your guys instagram and also your online store. I already have so much I want to buy in my cart and in my wish list. Im definitely trying to get my Bible studies on with all the study books I have found on the website. And now I even have the app to so much better just in case I don't take my Bible studies with me for a ride. God bless and thank you for my order I Love all of my items. I can't wait to order so much more.♥️♥️
Love it!
Not only do I love the beautiful artwork and aesthetic of the book, but the content is wonderful and has provided me with a deeper dive into Colossians. Would highly recommend for anyone!
I haven't started Chosen yet with my group:
But I got Colossians on my on because I am studying it...with my church Bible Study group with my pastor and...it has really been a great help since I started reading...it have some really great points that I haven't thought about until...I received this book...it is very interesting and make a lot of great points about the scripture...and I love answering the questions...it helps me with my lesson already. So I am looking in the future to buy so more books.
It's really good!
Loving the study so far digging deeper into this book, I love how they laid it out clearly to help understand the book better! And all the extra resources!