Regular price
$30.00
Sale price
$10.00
Unit price
per
Sale
Sold out
Fix Your Focus Bundle
Do you struggle to make time for God?
This bundle includes Fix Your Focus: A 52-Week Guide to Help You Put God First and 52  Scripture memory cards to help you put God first in your schedule.
Fix Your Focus Card Set
We've created this verse card set with 52 
cards full of prompts and Scripture to guide you as you seek to grow in Christ over the year. Each card includes a verse of Scripture to memorize and a weekly affirmation. 
These cards are made of heavy-weighted, 400gsm professional cardstock. The small 4" x 4" size makes them easy to take with you on the go to help you fix your focus all year long. 
Fix Your Focus - A 52-Week Guide to Help You Put God First 
This resource will:
Provide a weekly step-by-step guide to center your life on Christ

Help you organize your to-do list and prioritize how you spend your time

Assist you in preparing spiritually for the week and tasks ahead

Guide you to journal, pray, and meditate on Scripture

Encourage participation in spiritual disciplines like serving, fasting, rest, and fellowship
The Fix Your Focus booklet contains 52 weeks of prompts. Each week's prompts are meant to be completed at the start of the week to prepare your heart and mind to focus on God. You may want to use a planner or calendar and a journal alongside Fix Your Focus. Every week contains Scripture to meditate on and a short gospel-centered truth to speak over yourself and the week ahead. We suggest using a planner or calendar and a blank journal, such as The Gospel Changes Everything Journal, alongside Fix Your Focus.
View full details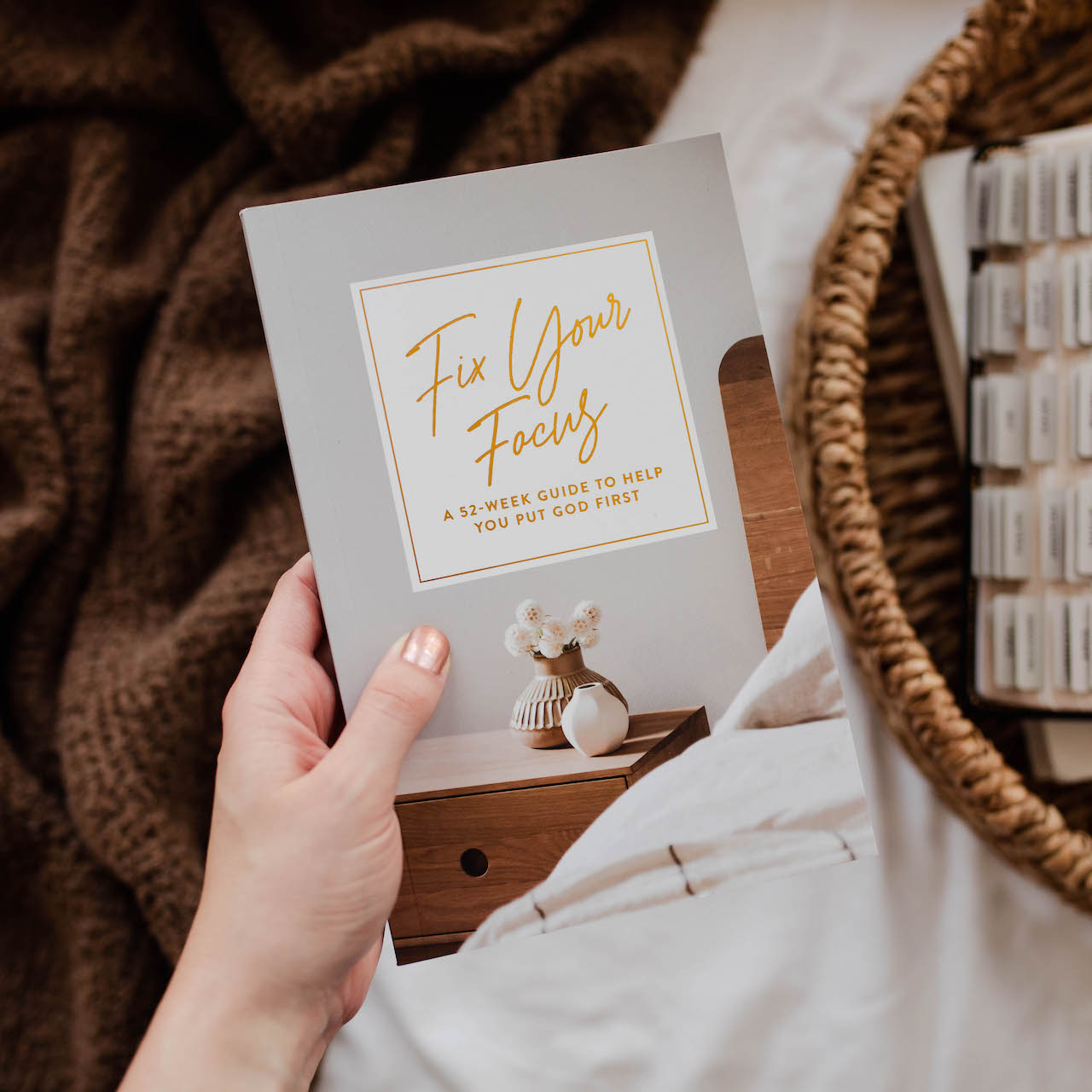 Perfect
I'm looking forward to starting this 52 week guide in 2024 to help me keep my focus on God!!! The cards are so beautiful!! Thank you Daily Grace Co for creating yet another awesome tool to use in my journey!!!
Best bible study materials
The quality of these bible studies, bible highlighters and note taking pads are amazing!
Not to mention they are all very aesthetically pleasing!!
I will definitely be ordering again.
Wonderful bundle!
My daughter told me about your site & I ordered & am well pleased with what I received!
Day 12
I am very adhd and struggle with devotions I'm almost 30 and before this time I've only ever made it at most 5 days I'm on day 12 of devotions and I love that it keeps me focused and my attention
Focus
I love the study guides, they are well made and worth the money, I am so glad I bought them.