Regular price
$40.00
Sale price
$40.00
Unit price
per
Sale
Sold out
This bundle includes one women's study book and one men's study book. 
Search the Word | 6 Week Study 
Studying the Bible isn't just for pastors, professors, and scholars—it is for all believers. But reading the Bible can be a challenge sometimes! How can we practically seek to understand and apply the truths of Scripture in our everyday lives?
Search the Word is a 6-week study that equips believers to:
Understand the overarching narrative of Scripture.

Develop practical Bible study skills to better interpret and apply passages.

lmplement skills through interactive workbook pages.
Special resources within study:

Biblical Symbolism

Timeline of Scripture

Christ in All of Scripture

Transition Words

Bible Highlighting
Key themes: Bible Study Skills, Biblical Genre, Christ in All of Scripture, Bible Interpretation
Details: 

This study is perfect for individuals or groups. 

Each week contains five days of study material, including daily study questions, a weekly memory verse, and weekly reflection questions. 

Measures 8x10

Includes 172 pages 
View full details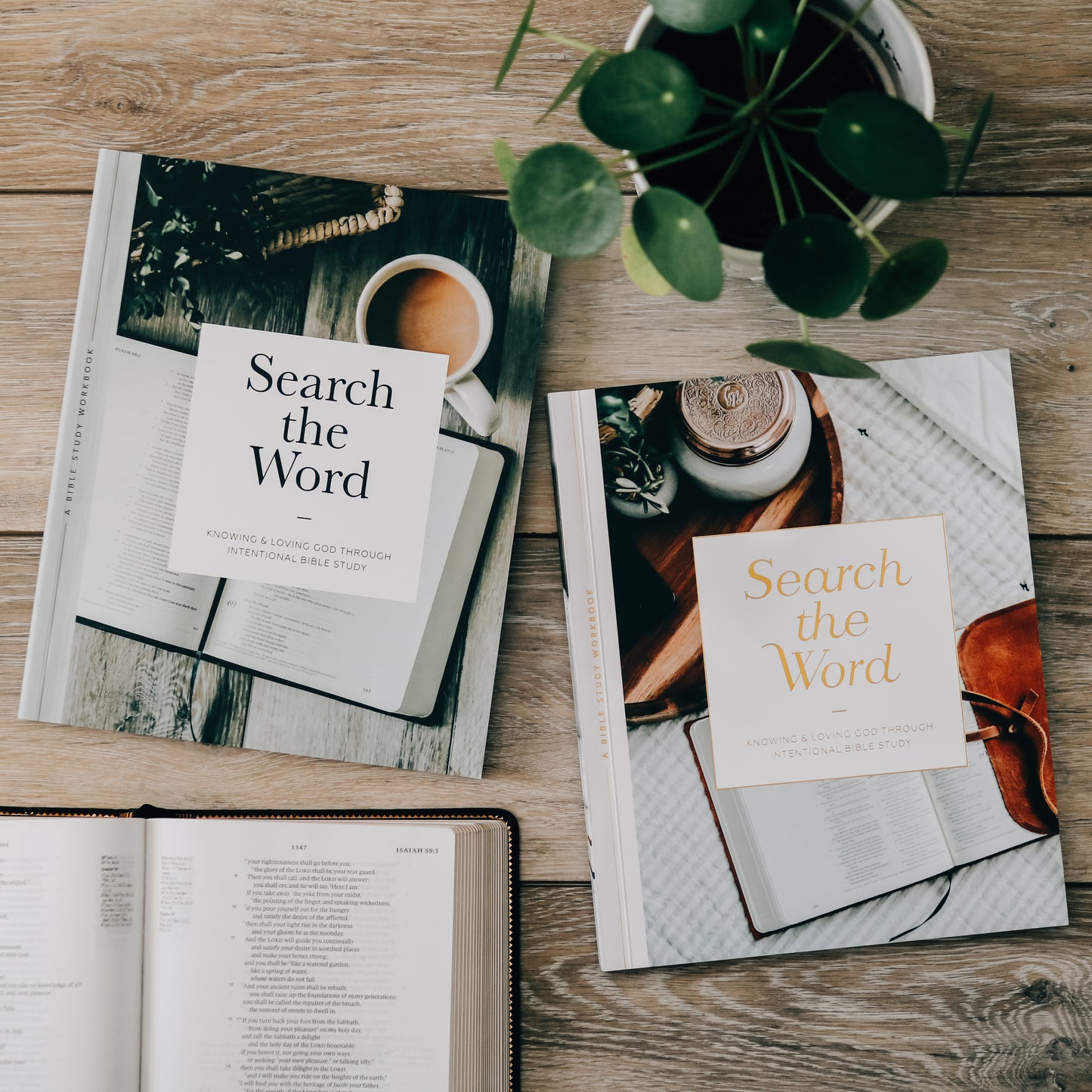 Love it!
So glad my husband and I can share and compare. Excited to dig into it more!
Search the Word
The books are distributed and we are ready to dive into Search the Word! The books and pages in the book are beautifully designed. We look forward to searching to word together to learn and grow closer to Christ.
Useful At Any Level
This resource is so practical that you could be a beginner to in-depth Bible study, or wanting to get back into it, and would find it useful either way. I want to go through it with a group of women now, as it's easy to read and just beneficial.
Great start for a beginner
As a believer in God but a beginner in knowing Him and understand the word. This book breaks everything down to its basic fundamentals of how to read and understand the Bible. I always felt to intimidated to read the Bible and feel more confused and now I can saw I do understand and have such more respect and appreciation for the Bible. For anyone who doesn't know where to start START WITH SEARCH THE WORD. I do recommend working with a group so you can get other people perspectives, it really helps!
A perfect birthday gift!
A devout Christian friend had a birthday and like most of us, has most things that he needs. I received bible study markers from a friend and loved them so got him a set as well as the Men's bible study. He was thrilled and is sending me daily texts about how meaningful the study is for him.