Regular price
$80.00
Sale price
$20.00
Unit price
per
Sale
Sold out
The Dwell Scripture Memory Journals are designed to assist you in memorizing longer passages of Scripture. They provide helpful information to help you while you memorize like Word studies and space to practice writing out your Scripture memory. These beautiful journals help you memorize these passages at your own pace with encouraging tips and exercises along the way.

Included in this bundle:
Dwell | Psalms of Praise and Psalms of Thanksgiving
Dwell | Growing in Grace
Dwell | Walking by Faith
Dwell | Beloved Bible Passages
Dwell Scripture Memory Journal | Gospel Passages

View full details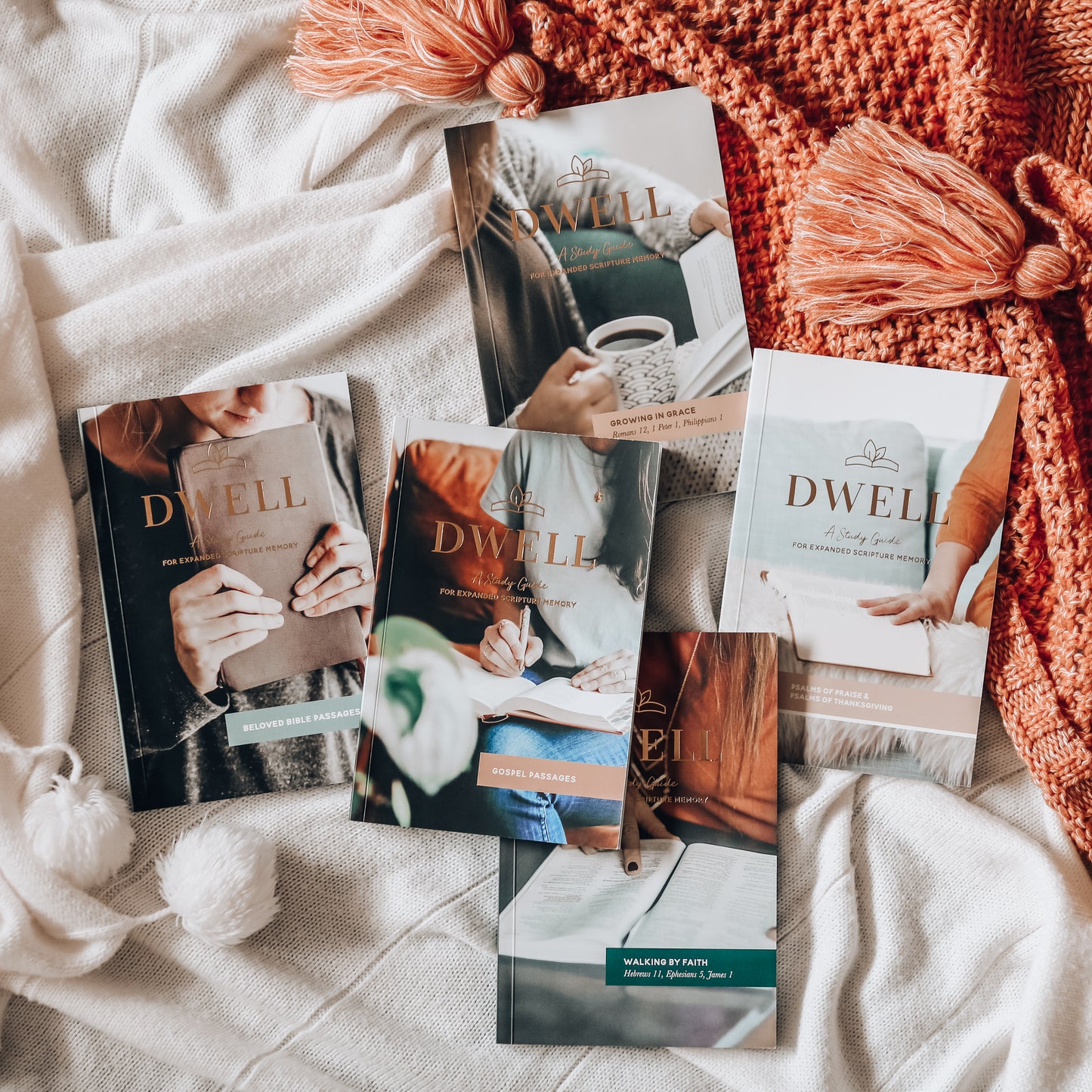 dwell
I'm obsessed with these books! not only are they beautiful but they feel like a breath of fresh air. helps with studying scripture!
Wonderful
Many times as an adult, we get so overwhelmed with life and business that out time with God deminishes to maybe a 3 min tik tok daily devo on some days. The last thing we think about is scripture memory. Many times, God speaks to me through the scriptures I memorized as a child. I can't remember the last verse or passage I memorized, sadly. I love how this series encourages that discipline and I love how it is set up typically! Right now I'm working through Romans 1.
Dwell scripture memory journal
So happy with these and I'm so excited to learn more about scripture!
Dwell Bundle
Just received it and after reviewing it looks like something I'll enjoy using. Ordered a separate planner to use with the Growing in Grace to take notes.
Dwell Memory jurneling bundle
Love these they are a big help I'm very glad i got them. They were a great price also. Everything I have bought has been a good price and the books are nicely made. I buy atleast 1 book every pay day thank you